EPIC Awards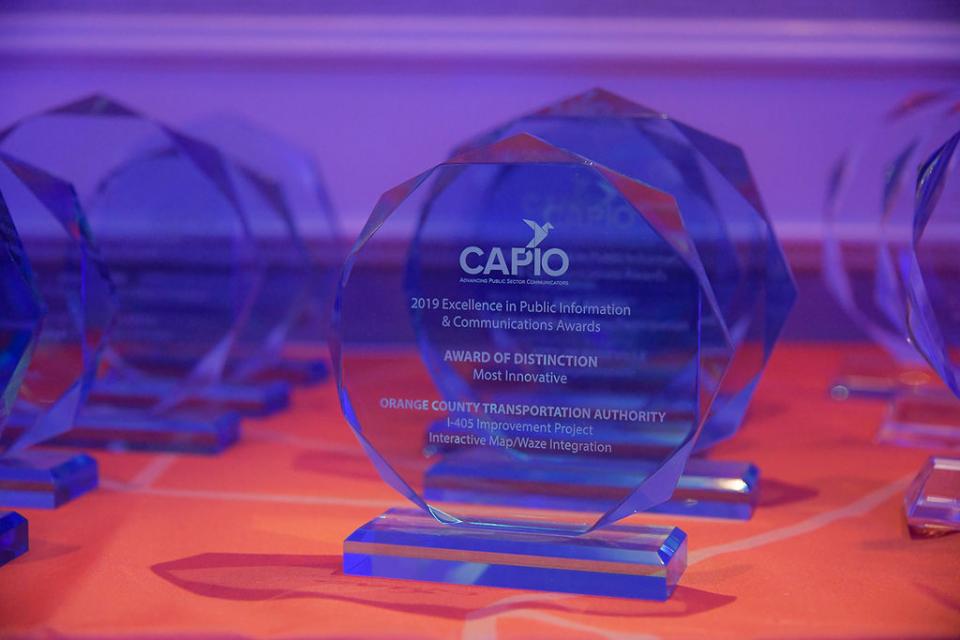 Special notice for 2021: epic CATEGORY awards ARE on pause
NOMINATIONS ARE OPEN FOR OUR PAUL B. CLARK, COMMUNICATOR OF THE YEAR AND CRISIS COMMUNICATIONS LEADER OF THE YEAR AWARDS
It has been an EPIC year for California's Public Information Officials. In light of this "unprecedented" experience (are we all ready to retire that word?), we are going to press pause on the EPIC award program for 2021 and focus on our association's historic milestone while celebrating all of us and the solid work we have delivered since we last met. Don't worry, the EPIC awards will return full-force in 2022 and all the work done from our last judging period until then will be eligible. We are committed to honor all of our winners from 2020 and 2021 at the 2022 conference in true CAPIO style. Please stay tuned as we roll out more details about our fall conference and epic birthday bash.
———————————————————————————————————————-
CAPIO's EPIC awards program recognizes the most creative and effective efforts in the areas of communication and marketing campaigns, newsletter production, photography, special events, writing, Web site development and video production.
The EPIC Awards honor work that transcends innovation and craft - work that made a lasting impact, providing an equal chance of winning to all entrants regardless of company or agency size and project budget. If your work moved people, we want to give it a chance to take home an EPIC.
Learn best steps in preparing for your entry through our past webinar (click title to view webinar) "How to Make Your Awards Entry EPIC" Download Copy of Slide Deck
REVIEW PAST ENTRY JUDGING (COMPLETED APPLICANTS ONLY)
The Program
The Excellence in Public Information and Communications (EPIC) Awards are presented annually by the California Association of Public Information Officials to honor outstanding public agency information and communications programs.
The EPIC Awards honors work that rises above innovation and craft – work that made a lasting impact. Our goal is to offer an equal chance of winning to all entrants regardless of agency size and project budget. If your work moved people, we want to give it a chance to take home an EPIC.
The Hardware
CAPIO provides winners and their organizations the recognition they deserve while offering validation that their work is not only highly regarded by their peers within the industry but also making a tremendous impact in the communities served.
The EPIC Award, our highest honor, is given to those entrants whose ability to communicate positions them as the best in the field. The Award of Distinction is presented for projects that exceed industry standards in quality and achievement. EPIC winners will also be showcased in CAPIO's Winners Gallery.
Determining the Finalists
The EPIC Awards are judged by your peers, a volunteer group consisting of experienced communicators. In order to ensure a fair and effective process, the CAPIO Awards committee work to secure judges not only from within CAPIO but from partner professional public relations associations.
Winning entries for the EPIC Awards are reviewed and selected by at least two judges per category selected, who have committed to uphold CAPIO's commitment to fairness and merit-based achievement. This ensures each entry is afforded equal chance of winning an award, as all entries are judged to evaluate distinction in creative work. All entries are evaluated against a standard scoring criteria and judging is based purely on quality of craft, so sometimes a category may have multiple winners, or none at all.
Entries are scored on a 100 point scale by the judges. In categories that receive a large number of entries, the entries will be grouped according to service area size (small, medium and large) prior to being judged.
Finalist Notifications
Finalists will be notified by email and will also be posted on the CAPIO website.
Award finalists are encouraged to bring a display if possible to show at the Annual conference. Displays can include marketing promotional items, a binder or folder with program collateral, an image poster (on foam core backing if possible), or other creative display form. If finalists cannot attend the conference, the display can be sent to the CAPIO office or the conference hotel for display at the conference.
Interested in ordering a duplicate of your award? You may do so by contacting our awards engraving company ACP Publications and Marketing. Contact Yadira at service@acppub.com.
EPIC Award Details
Are you ready to learn more about the EPIC Awards and submit your work that has made an impact? Read through the tabs below for deadlines, entry information and tips, scoring criteria and fees.