April is APR Month: Power Up your Professional Life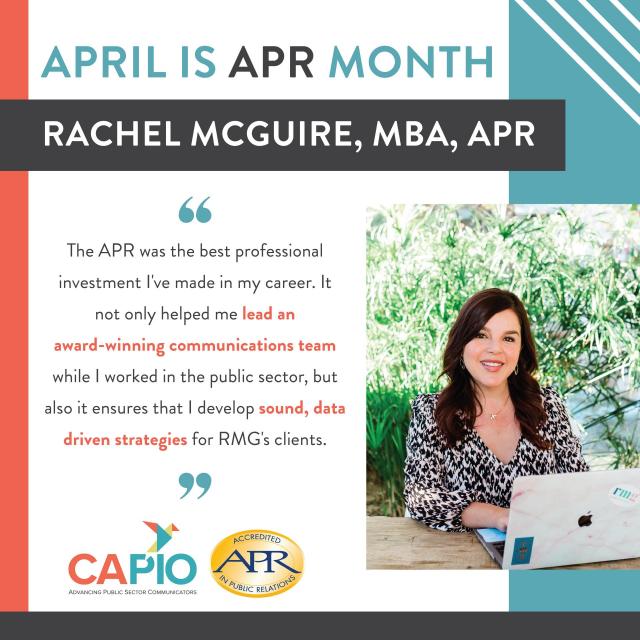 APR — Those three letters communicate a powerful message about the public relations practitioners who earn them.
April is APR month, and CAPIO is proud to continue offering our members the internationally recognized Accreditation in Public Relations (APR). The APR is a true measure of excellence in the communications profession, and the key to next-level career growth.
The APR credential:
Asserts your professional competence and showcases a commitment to lifelong learning.
Communicates professional expertise and reflects high standards.
Sets you apart from your peers and positions you as an industry leader.
Ensures you stay up to date on industry best practices.
Throughout April, CAPIO will be highlighting our members with their APR and sharing how it has made a difference in their careers.
Learn more from CAPIO members who provide some valuable first-hand advice and information about why APR is a game-changer. Hear from your APR colleagues about how obtaining the APR influenced their career. And hear their advice for those considering pursuing the APR designation. Attend the "Earn Your APR in 2022" webinar on Thursday, April 21, and stay tuned for the latest CAPIO podcast featuring CAPIO members Connie Cochran, APR and Laurie Huelga, APR.
For more information on obtaining your APR through CAPIO, contact CAPIO's Education and Development Chair, Christine Brainerd, APR, at cbrainerd@folsom.ca.us or 916-461-6013 or visit CAPIO's APR web page.