CAPIO Best of Show Winner Highlights
Learn more about our Best of Show winners for 2022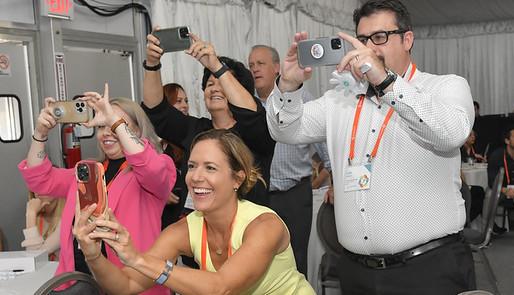 CAPIO's 2022 EPIC Awards Program was a chance to celebrate two years of great government campaigns as we looked back to 2020 and 2021.
Congratulations to all of the winners of these campaigns who were honored during our 2022 CAPIO EPIC Awards Luncheon and Dinner programs in San Diego in August.
Our 2022 winners included seven Best of Show recipients for projects in 2021 and 2020 representing different population | service area size agencies. Click to view their submissions and learn more about these award-winning programs.
2021 Project Small Population (Tie) – City of Agoura Hills Brand Refresh (Branding) One judge stated, "I like that the city determined that the already established logo didn't need to be replaced, but rather needed a better narrative with better guidelines for its usage." Another judge stated, "This might actually be the most comprehensive and impressive branding/style guide I've ever seen!"
2021 Project Small Population (Tie) – City of Pico Rivera Community Bike Ride (Graphic Design-Online) Judge's comments included, "This is a good use of graphics to capture the attention of your audience," and "I appreciate the background information, and love the examples of the results and the interactions received."
2021 Project Medium Population – "We Support Folsom" City of Folsom (Marketing Plans/Campaigns – In House) A judge stated, "This was a thorough campaign. It truly had it all and had multiple options to avoid the stale messaging. The videos were clean and the support from the local businesses was amazing. Kudos to a very impressive campaign. It would have been excellent even without the pandemic."
2021 Project Large Population – California High-Speed Rail: 2021 Year in Review (Video Production – In House). One judge stated, "THIS is how you make champagne video on a beer budget! The drone footage was great, but it didn't dominate the project; the close up detailed shots gave me a sense of the hard work being done; and you truly captured the enormous scope of high-speed rail coming to California. I felt like I was watching a cable channel documentary or a network news package/special report. Well done!"
2020 Project Small Population - SBCERA Website Redesign (Website) One judge stated "The website is fun and modern. It sounds like it reached the launch goal of time to launch and had quite a bit of extensive research. Well done."
2020 Project Medium Population – Livermore Asset Geocache (Most Innovative Communications) Comments included, "What an awesome program. Timing was perfect – when people were actively looking for safe and entertaining ways to get through COVID lockdowns, yet perfect for post-COVID as well," and "Loved this project. The quizzes helped educate the audience. Great concept (and prizes in the end)."
2020 Project Large Population – Until the Last Drop Documentary (Video Production – Consultant Supported). One judge stated "This was the best campaign I have seen so far. The site was interactive, the videos were extremely engaging, and the emotions they were able to convey were astounding. Great job!"
We will continue to showcase our award winners throughout the coming months. And – be thinking of your 2022 projects as you complete them that will make for great entries for our 2023 CAPIO EPIC Awards Program when it opens in January 2023!
Back to the Communicator