Resolve to enhance your professional credentials in 2021
Earn your J. Lindsey Wolf Certificate in Communications
CAPIO's popular J. Lindsey Wolf Certificate in Communications is one of the hallmark offerings of our Association. Established in 2003, this certification, which is exclusively offered through CAPIO, provides a solid foundation of core communications courses focused on strategies and tactics to meet the evolving needs of CAPIO members and keep pace with the everchanging communications landscape. Recently revamped, the J. Lindsey Wolf Certificate in Communications is offered free to CAPIO members.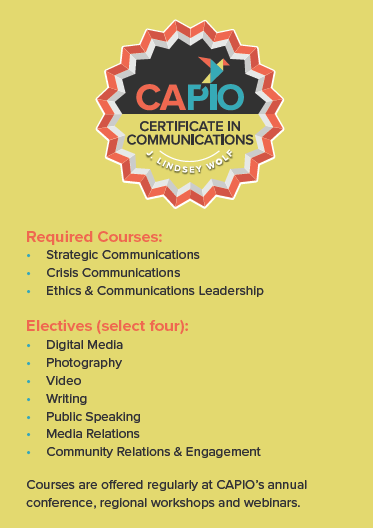 CAPIO knows many of you were hoping to complete your certificate at the conference. We will continue to roll out additional virtual programming that qualifies for the certificate program in the coming months.
If you have questions about a course you've taken, email us at programs@capio.org. You can also log in to view your member profile and navigate to the Continuing Education tab. To qualify for your certificate, complete the CE Tracking Form with your completed courses listed and email it to programs@capio.org.
For more information about the J. Lindsey Wolf Certificate, visit CAPIO's website.
Get your APR through CAPIO
CAPIO is one of only nine public relations organizations to offer its members the internationally recognized Accreditation in Public Relations (APR).
The APR recognizes timeless communications principles with contemporary strategies and tactics. The process of earning your APR takes your skills to the next level by exposing you to today's cutting-edge strategies and practices, assessing your skills to identify strengths and opportunities for growth, and demonstrating your personal and professional commitment to excellence.
Pursuing the APR gives you direct access to top public relations leaders—APR holders who will guide you through the process of achieving Accreditation—and provides the tools you need to distinguish yourself as a luminary in the public relations field.
For more information, visit CAPIO's website.
CAPIO announced members-only Toastmasters Club
CAPIO is pleased to announce we have started a members' only Toastmasters (speaking) Club – CAPIO Masters - which is conducted 100% online. Since 1924, Toastmasters International has been a nonprofit educational organization that operates clubs worldwide for the purpose of promoting communication, public speaking, and leadership skills.
The careers of well-known personalities such as actor Tim Allen, retired news anchor Chris Matthews, and Debbi Fields Rose of Mrs. Fields' Cookies have greatly benefited from their Toastmasters experiences.
Enrollment in the CAPIO Masters club is welcome throughout the year. For more information or to join the club, visit CAPIO's Toastmasters web page.