The Perfect Recipe for a Mentor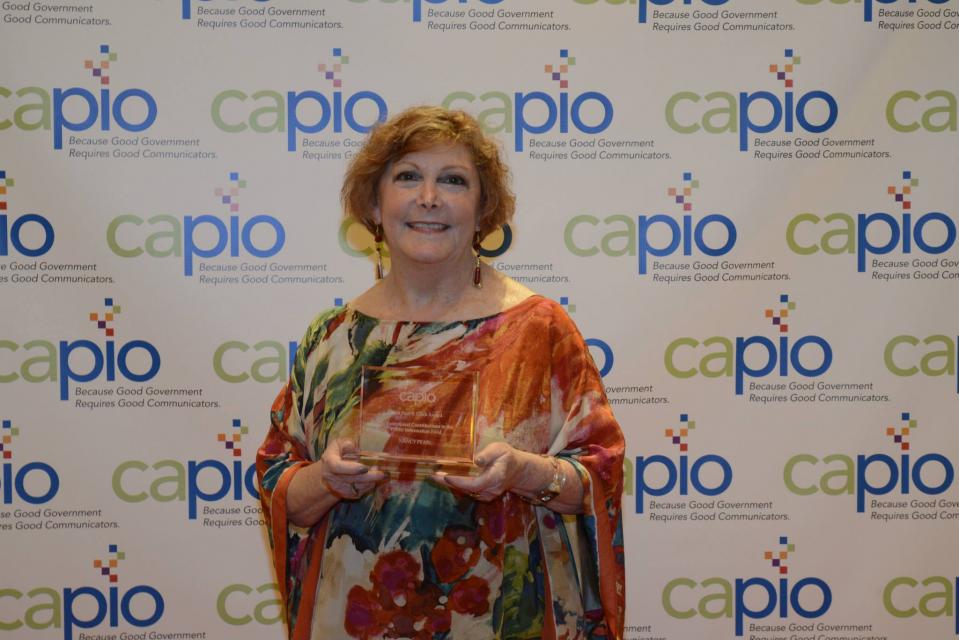 CAPIO is launching its first-ever mentoring program in order to provide our members with ongoing learning and development, which is one of the key ingredients our members' success.
Finding a mentor who is able to provide you with valuable feedback and ongoing support, though, oftentimes seems hard to find. CAPIO has reached out to Christine Brainerd, APR, CAPIO President and City of Folsom Communications Manager, and Rachel McGuire, APR, CAPIO Education and Development Chair and Western Municipal Water District Communication Manager, to learn more about the importance of a mentor/mentee relationship.
CAPIO: You both have 15 years' plus experience in communications. Have you ever had a mentor during this time?
RM: Yes, I've had several. At first I was nervous because it seemed like asking someone to be a "mentor" was such a huge request, and it made me nervous. Plus, I wasn't really sure what a mentee/mentor relationship really looked like.
Did we get together for coffee once a quarter? Should I call this person whenever I had a professional question on work? I really didn't know!
Thankfully, my mentor/mentee relationships developed quite organically. I always believe that if I am the smartest one in the room, I am in the wrong room. I am not afraid to ask questions of those whose work I admire and then shut up and listen.
CB: I've had several mentors over the course of my career, and I have found that they have offered some of the most valuable resources in my career. Like Rachel, my mentor/mentee relationships have developed organically.
Throughout my career, I have had three mentors who have provided invaluable advice, critique and encouragement. Through different aspects of my life and career, my mentors have shape my career by helping me set a path to achieve my goals.
Experience is priceless. When you have a mentor, you are learning from someone who has arrived at where you want to be—and they know the steps to get there. I have been fortunate to learn from those who have walked the walk, who can share honest, candid advice and learnings from their successes, their challenges, and years of experiences.
CAPIO:You both have quite a bit of work experience and leadership in government communications. Have you ever been approached to be a mentor?
CB: Always bring a notebook if you're meeting with someone. Don't chew gum in meetings. Work hard and be nice to people. Do what you say you're going to do.
I will never forget my manager who mentored me in the early days of my career. As a mid-career professional, I love that I can now give back by helping young professionals entering our profession. In fact, it has been one of the more invigorating aspects of my career. It can be incredibly rewarding to make an impact in someone's life by providing guidance and education, and opening doors of opportunity.
RM: Like my own experiences finding a mentor, this process seems to have evolved naturally. In fact, I keep a box of cards in my office from young women thanking me for helping them move forward in their communications careers and how much my candid advice and feedback meant to them. When I have a rough day, I often look through these cards as a source of inspiration.
My mom raised me to celebrate the success of others without questioning my own, and it makes me happy when I can continue the tradition and provide personal stories of successes and challenges. I feel like sometimes we feel like we are the only one experiencing something and sometimes just knowing what you are going through is completely normal (albeit difficult or heartbreaking) makes all the difference.
CAPIO: What advice can you give to those looking to find a mentor?
CB: The best way to find a mentor is through someone you already know, including family, friends and your professional network. One of the things that makes CAPIO such a wonderful organization is that we're 500 strong and have members across the Golden State. Our members represent a cross-section of all communications fields, including school districts, counties, water and air pollution control districts, parks and open space districts, private PR firms, municipal television channels, police and fire departments, and more – professionals who handle public information and communications duties for these agencies and organizations. CAPIO's mentoring program matches you with seasoned communications professionals in your field to support you as you grow in your career.
RM: Sign up for CAPIO's Mentoring Program! I wish this program existed for little Rachel when I first started out. Finding a mentor seemed so overwhelming, especially since I was super shy.
I've been helping develop the CAPIO Mentoring Program, and I am absolutely blown away by some of the mentors who have stepped forward to provide their time and expertise to those getting started in the field.
CAPIO: What is the greatest advice you have ever received from a mentor?
RM: One of my favorite mentors was Nancy Pearl, a former CAPIO Paul B. Clark award winner and long-time member. She was fierce and definitely a truth teller. One of the things I appreciated most about her was her ability to provide solid advice (which was often a tough pill to swallow) to me. It ultimately helped me become a better communicator.
After retiring several years ago, she moved to Reno, NV, but we remained friends on Facebook. From time to time, I would get private messages from her reminding me of proper grammar and how if I wanted to be a respected PIO, I needed to make sure to proof my Facebook posts and make sure it said "I" instead of "me." I always took it to heart and was grateful she would take the time to instill her "pearls" of wisdom on me.
I had family in Reno, so from time to time I would stop by and visit Nancy when I was up there. Most recently, I stopped by in July. I was telling her about something work related that really got under my skin and she calmly said "you are too intense, Rachel."
It wasn't exactly what I wanted to hear, but what I needed to hear. I know that about myself, but it was exactly the feedback I needed to take a step back and refocus.
CB: Some of my best advice received includes:
Nothing beats hard work, tenacity and persistence—and be patient, cream always rises to the top.
Relationship-building is one of the most important aspects of our work—do it well.
Don't bring me problems without also bringing solutions
Practice outcome based decision making — focus on your "desired outcome" and goal before beginning a task, project or encounter. First figure out what you want to achieve, and then figure out the steps to get there.
Like Rachel, Nancy Pearl also provided me with a lot of guidance over my career, particularly as I was preparing to make a job change. I recently came across one of her emails that was packed with sage advice, from resume and cover letter advice to personal presentation ("stop saying 'like' so much!"). My personal favorite piece of advice had to do with confidence and self-improvement. Nancy wrote:
"One more thing I wanted to pass along that was a great help to me …. I actually took a yellow pad and pencil and wrote out personal affirmations. I am a good person, I am an accomplished professional, I have these skills, etc. I added/deleted as necessary, and read them often. This was a huge boost to see my strengths in writing. I of course also listed weaknesses that needed to be developed. This was not to dwell on the negative (which I've found a few potential employers to do—run for the hills!) but to remind myself of where I wanted to improve."
For more information on CAPIO's Mentoring Program, visit CAPIO's website. Applications are being accepted now through March 1, 2018.
A Note from Christine and Rachel:
On Sunday, Nov. 12, our sweet friend and mentor Nancy Pearl passed away from a long battle with cancer. It is truly bittersweet for us as we are in the midst of launching CAPIO's mentoring program. Nancy, we couldn't think of a better way to honor your legacy than through a huge CAPIO family thank you for your sage advice, wicked sense of humor and passion for communications. Your support meant the world to us.