Winning Strategies for Developing a Public Outreach Campaign with Lasting Impact
Power Lunch Webinar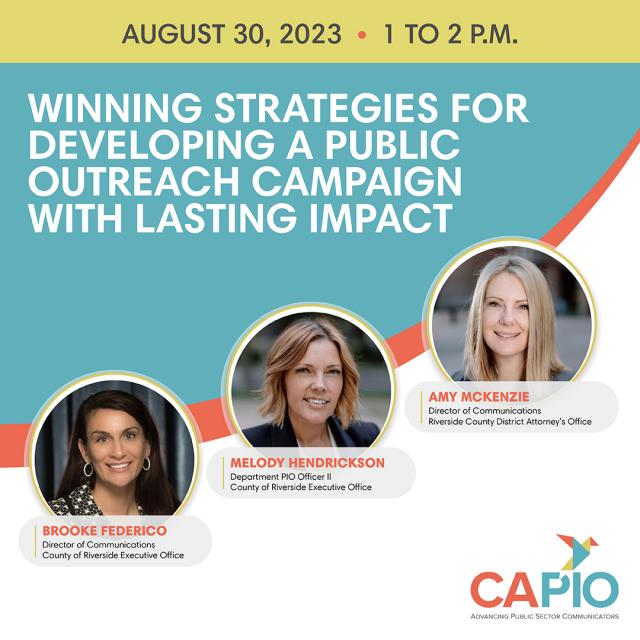 Are you passionate about creating positive, meaningful change and making a lasting impact in your community but unsure how to effectively engage with key audiences? If so, this workshop is tailor-made for you!
Join public-agency communication experts Brooke Federico, Melody Hendrickson and Amy McKenzie from the County of Riverside. They will share valuable insights and practical tips to develop a robust outreach campaign that delivers tangible results, using their award-winning Faces of Fentanyl campaign case study.
Key Takeaways:
Understanding your key audience and their needs
Using research as the foundation for a successful campaign
Crafting compelling messages and engaging content that inspire action
Choosing and leveraging the right outreach channels and mediums for your campaign
Leveraging internal resources and limited budgets for maximum impact
Collaborating on a multi-agency campaign
Measuring campaign success and refining strategies
Speakers
Date: Wednesday, August 30
Time: 1 to 2 p.m.
Cost: $30 members/Free for Professional+/$45 non-members
APR Continuing Education Unit
BIOS
Brooke Federico
Brooke Federico started as the public information officer for the County of Riverside in January 2019. She has led the county's joint information system for the county's response and economic recovery from COVID-19. Prior to her current post, she was a public information professional for the county's Emergency Management Department, where she led the development of the Joint Information System Plan and coordinated public information among several jurisdictions during various emergencies. Before joining Riverside County, Brooke worked in public information for the County of Orange Executive Office and Emergency Management Division of the Orange County Sheriff's Department. She has a B.A. and M.A. in Communications from Cal State University, Fullerton.
Melody Hendrickson
Melody Hendrickson is Department PIO Officer II for the Riverside County Executive Office Communications team. She has worked for the Riverside County District Attorney's Office, and the Riverside County Fire Department, where she has led campaign initiatives, produced digital projects, and created and managed brand content for Riverside County platforms.

An award-winning creative, Melody enjoys collaborating with fellow government communicators, always striving to keep her head in the clouds and feet on the ground. Most recently, Melody led the in-house content creation team for the Faces of Fentanyl awareness campaign. She has a B.A. in Communications from Azusa Pacific University.
Amy McKenzie
Amy McKenzie has been a member of the Riverside County District Attorney's Office for 18 years. She currently serves as the District Attorney's Director of Communications, leading a team of communication professionals. Amy created and developed the Communications Division, which is responsible for the internal and external communications for the DA's Office. She earned a bachelor's degree in social work from California State University, Los Angeles, and her Master of Arts in Organizational Leadership from California Baptist University.
In 2021, the Riverside County DA's Office-Communications Division learned that the public was unaware that fentanyl was terrorizing our community. They were one of the first government agencies to communicate about the deadly dangers of fentanyl. The pioneering of this critical message led to several other collaborations with multiple agencies, including the County of Riverside's award-winning "Faces of Fentanyl" campaign.