YouTube and Zoom Webinar help school districts connect with their communities
Perspective from Christine Paik, Chief Communications Officer with Poway Unified School District
By Brie Anne Coleman, Multimedia Specialist, Placer County Water Agency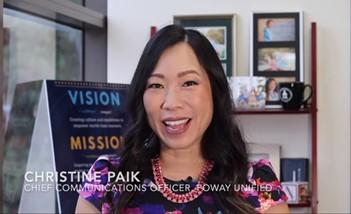 Since the COVID-19 pandemic began, many school activities, performances, and in-person lessons have been cancelled. Schools, like most other industries this year, have had to act quickly to transition to virtual environments in order to ensure continuity of communications and operations. In spite of these changing circumstances, teachers and administrators have found creative ways to turn these challenges into opportunities to build relationships and cultivate a sense of community with their staff, students and parents, and the public in a virtual world.
Christine Paik, Chief Communications Officer with Poway Unified School District (Poway Unified), shares some examples of how her school district is sharing messages, gaining followers, and engaging with her school community virtually through a variety of events.
Poway Unified's Back to School Kick-Off using YouTube Premiere
Every year, Poway Unified hosts a back to school rally with employees, where we debut our music video and hear from our Superintendent. This sets the tone for the year. With so much uncertainty revolving around the pandemic, we tried a YouTube Premier to be able to continue the tradition and opened it up to staff, families, and students to watch. The event was a pre-recorded 10-minute segment, which included clips from our Principals, Superintendent, as well as the music video, and advertised it via flyers, email, and social media (including the chance to win prizes donated by the Foundation). It premiered at 7 p.m. on Tuesday, Sept.1. Our goal was to get at least 1,000 live viewers (which we did) and at least 10,000 to watch the recording, which we ultimately exceeded with over 13,000 views.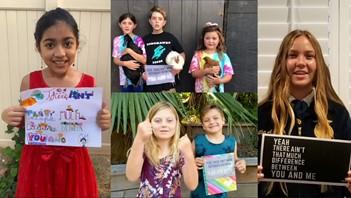 Watch Poway Unified's back to school rally.
Pros: Poway Unified had complete control over the messaging as well as quality control, since everything was pre-recorded and edited. I didn't have to worry about any technical glitches, but still had the excitement of a "live" premier. We were also able to share this message with our larger community, not just our employees. Through this online event, Poway Unified also gained about 1,000 subscribers to our YouTube channel.
Cons: The chat function on YouTube Premier proved to be a challenge. We could not figure out a way to disable the feature, and the middle school kids who were just there for the prizes were hard to monitor. I had to "kick out" several for profanity.
Top three lessons learned: Prizes worked well to motivate viewers and attract people outside our normal audience. I recommend having a couple people who can monitor the chat and remove people if needed. Looking back at our audience size garnered, we could have asked for more from our sponsors given the large captive audience.
College and Career Info Night launches on YouTube via StreamYard and Zoom Webinar
Poway Unified's College and Career Info Night is a large event for our district, with thousands of high schools students and their parents crammed into a gym at one of our schools. Again, our pandemic environment allowed us to debut our first-ever virtual college and career info night. The evening kicked off via a live streamed welcome on YouTube via StreamYard. We then utilized Zoom webinars for each of the multiple sessions, creating a "course catalogue" with links, times and descriptions that we distributed in advance. This allowed attendees (both parents and students) to plan their evening.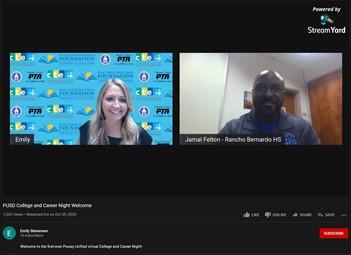 Pros: With Zoom webinars, the presenters have more control and many more people can attend at one time. Hosts can mute attendees and have the ability to allow specific guests to speak, allowing time for Q&A and interaction. The platform also offers a fun polling feature and webinars reduce zoom bombers with the video turned off for attendees.
Cons: While I wouldn't really call it a "con," our students are experiencing Zoom fatigue from virtual learning that they didn't really want to spend their evening attending more Zooms.
Top 3 lessons learned: Record all sessions so you can post for anyone who could not attend live – the asynchronous option reached many more people; 30-minute sessions aren't long enough to present all the information and have Q&A; having one room open during the entire event to answer tech-related questions, trouble shoot, or just answer generic questions works really well because anyone can pop in at any time for support.
Community information meeting using Zoom Webinar
Poway Unified held a community information meeting regarding a controversial land use project within our district boundaries. The district owns a surplus site that the Poway Unified School Board is considering leasing to Costco. To offer an opportunity for the community to weigh in, Poway Unified used Zoom and live streamed the event on YouTube for guests who did not want to be "in" the meeting. The goal was to front load attendees with factual information, and use a panel of experts to answer the most frequently asked questions and concerns. Our area has about 200 to 300 very vocal and upset neighbors who had been active in board meetings with their public comments, so we hoped the community information meeting would diffuse the tension and offer meaningful engagement for the group. Every person who commented at a past board meeting received an invitation to this webinar, which was also open to the public.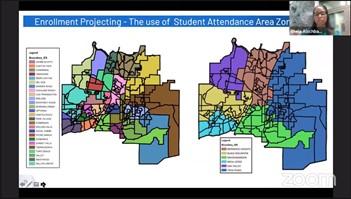 Pros: Staff asked guests to register in advance and submit questions, which directly shaped the event presentation. Sections were divided by topic then paused in between to allow for questions on that topic. Zoom's raise hand feature made it easy to call on participants when it was their turn to speak and unmute them.
Cons: People did not stick to the topic for their questions. They also used the time to vent, not necessarily ask questions. With so much interest, we did run out of time doing it this way, and residents who were not called on left feeling unsatisfied. We had to provide a follow up padlet to answer additional questions.
Top 3 lessons learned: Requiring people to register in advance and offer the option to submit questions allows you to be more prepared; leave more time for questions than you think you'll need; people who are upset don't necessarily want to hear your reasons or answers, they need an opportunity to be heard.