Young Communicator Scholarship program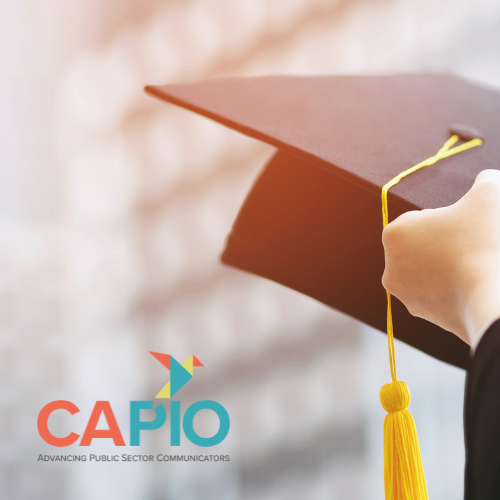 CAPIO's Young Communicator Scholarship is open to undergraduate and graduate students who are pursuing a career in the field of government communications. The winner of the $1,500 scholarship will be announced at CAPIO's annual conference this May. The application period will open March 6 and close April 7.
Finalists will be interviewed by phone or in person.
Eligibility
Enrolled full- or part-time at a California state college or university or a recent graduate (within one year)
Have at least two semesters left of graduate or undergraduate study after the scholarship is awarded
Qualifications
Majoring in a communications-related field at an accredited college or university in California. Communications fields include (but are not limited to) communications studies, public relations, advertising, broadcasting, digital media, English, film, journalism and marketing
Entrant must have an overall college or university GPA of 3.0 or better
For more information, contact us at info@capio.org.
About the Scholarship
The CAPIO Young Communicator Scholarship is made possible by long-time CAPIO member and former CAPIO Past President Rachel McGuire, APR, and her mom, Josie Polites. The $1,500 scholarship will provide financial assistance to graduate and undergraduate students pursuing a career in government communications.
Application
The following will need to be included as part of the scholarship submission. If all items are not submitted by the deadline, the entry will be disqualified.
Submission items:
Completed online application
A short essay (500 words or less) on your interest in public-sector communications and type of government agency you are interested in working for (federal, state, local, special district, public safety, education, etc.).
A letter of recommendation from a college/university faculty member or recent supervisor of a communications-related internship.
Official school transcripts, which include your fall 2022 grades (or if a recent grad, your last semester grades).

Transcripts (must be postmarked by April 3) should be mailed to:
CAPIO
PO Box 8840
Chico, CA 95927