Yolo County enhances communication strategy during pandemic and looks ahead to reopening
Perspectives from Jenny Tan, Public Information Officer, Yolo County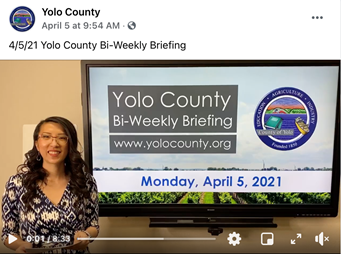 By Jackie Tran, Communications Analyst, City of Monrovia
When news of a novel virus was spreading, Yolo County quickly took the lead on providing information to their constituents. As a diverse county with demographics ranging from college students to agriculture workers, Yolo County enhanced their communication strategy to reach the many unique sectors.
Jenny Tan, public information officer for Yolo County, recaps the changes in communications over the past year.
Communications and the pandemic
In Yolo County, communications did not have a large role prior to the pandemic. Before COVID-19, Jenny was a team of one. From website administrator to content creator, Jenny did it all. But the pandemic completely changed that.
With the public desperately seeking information, Yolo County took the lead in the communications efforts. Jenny relied on established connections to collaborate with all public information officers in the county. Every Monday, about 50 communicators from over 35 organizations met to ensure that they were in sync when it came to information being released.
Embracing the new virtual reality, Yolo County began releasing daily briefing videos. Soon, each of these videos were receiving upwards of 5,000 views. Views on Facebook was not the only tool growing. At this point, all eyes were on Yolo County, and the county delivered. With a focus on providing new, relevant information, the county's website received over two million views each month, compared to one million views for all of 2019, and Facebook followers grew by 400 percent.
Needless to say, Yolo County's administration has seen the importance of communications. Jenny's team has grown to include many talented players.
Getting back to open
It's been over a year since the California Governor's first executive order, and Yolo County is now moving towards normalcy. Whether the topic is reopening businesses or vaccination, Yolo County's communications team is always thinking 10 steps ahead, strategizing the important talking points that have not been addressed while keeping the messaging consistent. Moving forward, the key message is that every action is interconnected – getting vaccinated will help keep the positive cases down, while testing will provide data on how far the virus has spread.
When addressing the community, the team realized that there is a need for encouragement. In 2020, the world experienced the aftermath of the death of George Floyd, a contentious presidential election, and fiscal challenges, all layered on top of a pandemic. Although it is important to let people know that recovering from these crises will take time, the underlying message can still be positive.
Advice for communicators
As we continue to face these challenges, here are a few things that communicators should keep in mind.
We're in this together. The year 2020 has shown us that more can be accomplished when working together. As a community of communicators working to serve the public, we can be much more successful if we take care of each other and trust in each other.
Self-care is a necessity. It's been a long year filled with late nights and seven-day work weeks, resulting in extreme fatigue. When you have a moment, be sure to take time to care for yourself.
Remember the big picture. Through communications, the public has a direct line to their government leaders. This past year demonstrated that people want to be connected to local government and we must continue to foster that relationship. In order to build a relationship, the community needs to know who you are, so put faces of the staff out there. When information is being shared, be simple, clear and forthright.
Jenny Tan started working with Yolo County in January of 2019 as their Communications Coordinator before being promoted in 2020 as the Public Information Officer (PIO) where she oversees the County's branding, media relationships, website, graphic design, social media and anything else that touches the public. Most notably, Jenny has been responsible for the County's Joint Information Center, overseeing a team of staff on the COVID-19 response, from face coverings and restrictions to vaccinations and testing. Jenny has more than 10 years of experience working in communications, including 4 years as a PIO. Jenny is passionate about inclusion and diversity and ensuring that all voices are heard and represented. Additionally, Jenny believes in simple and easy to understand communication that cuts through jargon and government lingo. She currently lives in Davis with her family and graduated from the University California, Davis with her Bachelors in English.