What is the Working Genius assessment tool?
Learn more at CAPIO's September Leadership Summit!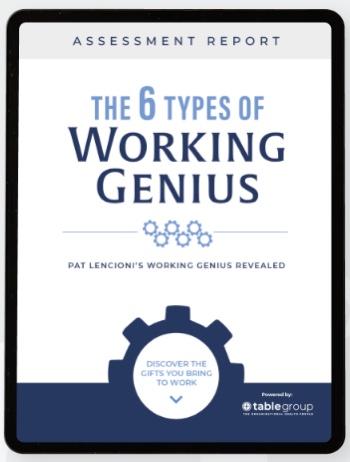 A new management and leadership tool being talked about is the 6 Types of "Working Genius" assessment.
The 6 Types of Working Genius is a model that helps people discover their natural gifts and thrive in their work and life. When people are able to better understand the types of work that bring them more energy and fulfillment and the work that leads to frustration and failure, they can be more self-aware, more productive, and more successful.
The 10-minute Working Genius assessment and custom report provides detailed insights about your areas of Working Genius and Working Frustration, along with an easy-to-use application section that will help you leverage this information in your work, with your team, and in your life.
CAPIO is including a complimentary assessment for each participant of the 2023 CAPIO Leadership Summit being held September 25 – 26. And, even better, we have a certified Working Genius trainer Angela Sun with the Orange County Transportation Association who will help you understand your results and how you can contribute to work most effectively by understanding the six fundamental activities required for any type of work, and the framework for how work gets done. As individuals and leaders, learn how your team can be transformed when you understand how your gifts work in synchronization with those on your team and at your agency.
We have an exciting lineup of topics being covered at our inaugural Leadership Summit including discovering your leadership point of view, public engagement & leadership, personal branding, getting beyond the pigeonhole, next level networking and being a unicorn manager. View our speaker line-up and consider registering today!
Early-bird registration fee – $399 (Member) / $499 (Non-Member)
Prices increase starting August 26.