Tik Tok on the Clock: Tips and Tricks to Get You from Beginner to Viral
Power Lunch Webinar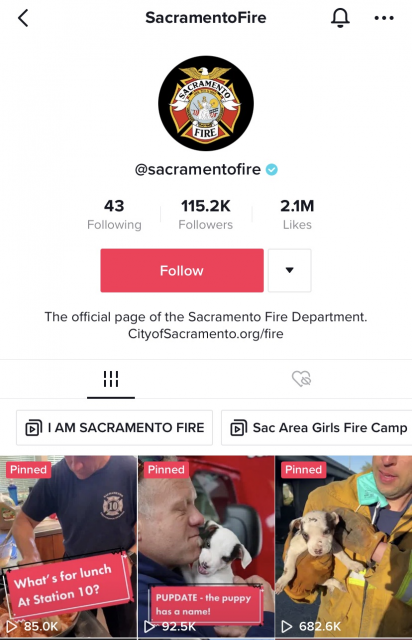 TikTok has more than 1 billion monthly active users. This app has been downloaded over 200 million times in the United States alone. If your target audience includes anyone between the ages of 13 and 60, TikTok is where you need to be.
Sacramento Fire joined TikTok in April 2021. A year later, the account had close to 100,000 followers, making it the biggest social media platform for Sacramento Fire.
Join the Sacramento Fire's Media and Communication Specialist Wendy Aguilar and Public Information Officer Keith Wade to get all the latest trick, tips and trends to help you go from beginner to viral on TikTok.
Wendy Aguilar and Keith Wade will walk you through their journey of creating and growing the department's TikTok. Plus, how to strategize and develop content to entertain and engage one of government's hardest to reach audiences — youth and young adults — on a platform exploding in popularity.
Speakers:
Recorded: Thursday, July 28
BIOS
Keith Wade
Keith A. Wade is a Fire Captain for the Sacramento City Fire Department and for the past four years has served as the Public Information Officer. With more than 21 years of experience, he has spent time in suppression as a firefighter/paramedic, precepting paramedic interns then promoting to the rank of Captain in 2012.
In 2018 he was appointed PIO for the agency, which entails speaking on behalf of the department, performing media and community outreach and creating and producing content for both traditional and social media. Wade starred in A&E'S live Rescue T.V. series from 2019 – 2020, which featured firefighters responding to emergency scenarios and informing the viewers with situational updates.
Captain Wade is qualified as a California State Advanced level PIO, deploying to Large scale incidents such as the Camp Fire, Caldor Fire, SQF Complex Fire and civil unrest activations. He is a member of the Sacramento Regional Type Three Incident Management Team as well as the California Regional Urban Search & Rescue Task Force (CA-Task Force 7).
Wade holds a Bachelor of Science Degree in Business Administration from California Coast University and maintains his licensing as a paramedic from Mt. San Antonio College.
Wendy Aguilar
Wendy Aguilar is an award-winning communications professional. She's a passionate storyteller with a unique combination of communications, media and business management skills. As a Media & Communications Specialist with the Sacramento Fire Department, she is responsible for media relations, public information, event coordination, content production and social media management.
Most recently, her attention has been focused on creating video content for TikTok and Instagram reels in order to reach a younger demographic. Some of those videos have gone viral reaching millions of subscribers and bringing thousands of new followers.

Her journey into public relations began when she joined the Communications team at San Juan Unified School District in 2018.

Wendy spent nearly a decade as a multi-media journalist working in radio, television and print. A graduate of California State University Northridge, she worked as a reporter, producer and anchor for CBS, ABC, CW and Telemundo affiliate stations in Arizona, California and Texas.
Social Handles
Twitter: @SacFirePIO
IG: @sacramentofire
TikTok: @sacramentofire
Website