Looking back on the #campfire
An interview with Miranda McAfee-Bowersox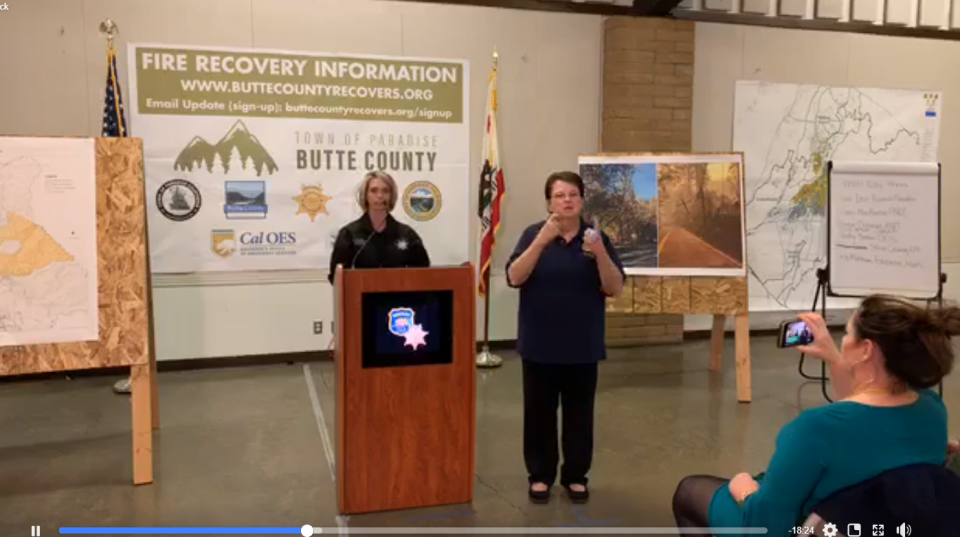 While California has had clear(er) skies this summer, we can't forget the lessons of 2017 and 2018. As we approach the anniversary of the Camp Fire, CAPIO interviewed Miranda McAfee-Bowersox, PIO for Butte County Sheriff's office during the crisis on her thoughts back to that time.
CAPIO: Can you describe your experience providing crisis communications response during the Paradise Fire?
"The Camp Fire was an unprecedented event. The response and recovery is ongoing. Not only is it challenging to wrap my head around the enormity of the incident, but it is also difficult to think back to the first days and weeks of the incident. Mentally, I want to block the whole thing out. During the initial response, I was working as the Butte County Sheriff's Office Community Relations Coordinator/PIO. This summer, I transferred into the Butte County Administration PIO role where we are still handling some of the recovery communications as well.
On the morning of November 8, I was notified of a fire burning in the small community of Pulga. Not long after my initial notification, I received a text from my husband, who works for Cal Fire, saying he was on his way to the fire in Pulga. Within about an hour, we went from evacuating the small community of Pulga, to evacuating the entire Town of Paradise. Several other evacuations were issued as well; however, my point is that this fire moved so quickly it was very challenging to keep up. It was also challenging to hear the fear in the voices of coworkers over the radio and realizing my own husband was also out there in the middle of this monster of a fire. I focused on pushing out as much information as I could, in addition to coordinating with other local PIO's to ensure messaging was consistent and being provided in as many ways as possible. At that time, I could not allow my mind to fully accept what was happening to so many people…the lives lost, the homes, the tragedy. To this day, I still have a hard time believing what happened.
The next morning, I received a text from my husband saying he had been burned and was going to be flown to UC Davis for evaluation. Fortunately, he was able to be treated locally and didn't need to be air lifted, but that initial text really affected me. I now look back at my husband's experience as being a blessing in disguise, because he was home for the rest of the fire and was able to help take care of our two kids so I could focus on my role as PIO.
My next weeks….months…. would consist of writing the Sheriff's talking points for every press conference, writing press releases, coordinating with other PIO's, helping coordinate community meetings, pushing out as much information as I could, coordinating interviews, assisting with visits from dignitaries (including the President), and sharing some of the stories that came from this horrible event."
CAPIO: What were the biggest lessons learned?
​"It is so important to have close connections to your local PIO's. Butte County is no stranger to disasters….we experienced the Oroville Spillway incident in 2017…we were very fortunate to have strong relationships built and those lines of communication already established."
CAPIO: What advice can you give to a PIO on handling a crisis?
"Do what you can in advance. Have important phone numbers in your phone. Know the communication channels you will use. When crisis hits…..don't forget to take care of yourself. The PIO role can be stressful, and there is never enough time in the day…..but it's important to take care of yourself so you can do your job to the best of your ability. I also think it's important to remember to accept help when it is offered. Butte County was fortunate to have mutual aid PIO's that assisted in the JIC. It wasn't until a couple weeks into the incident that we had a mutual aid PIO come to assist with Law Enforcement information. That one mutual aid PIO made my job so much easier and took a lot of weight off my shoulders. I will never be able to thank him enough."
CAPIO: Any final thoughts?
"I think it's important to remember the Camp Fire – and fires like it – impact far more than a single community or town. Many of the outlying communities in Butte County that were also severely impacted experienced a feeling of being forgotten when so much focus was placed on the Town of Paradise. The Town of Paradise was severely impacted, and I don't mean to take away from that; however, I like to try to remember to acknowledge the smaller surrounding communities as well."
About Miranda: Miranda served as PIO and Community Relations Coordinator at the Butte County Sheriff's office from September 2016 – July 2019. In July 2019 she started with Butte County as their Communications / Public Information Officer.
Click to view full September Newsletter (Member log-in required)