Look into the future of communications at the 2020 CAPIO Annual Conference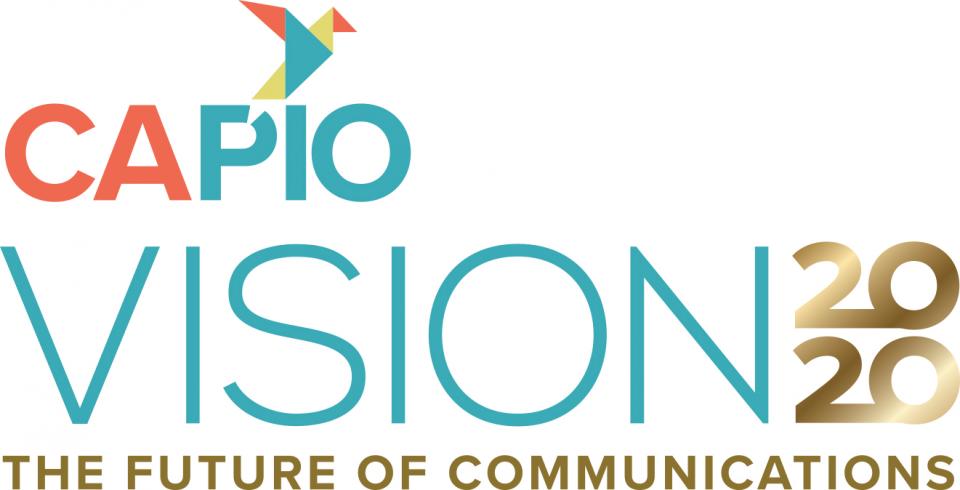 The future is here! Join communicators from all over the West Coast, April 20-23, 2020, as they roar into the new decade with four days of thought-provoking sessions, networking opportunities, and inspiring keynote speakers at CAPIO's annual conference, themed "Vision 2020: The Future of Communications".
The CAPIO conference has something to help all communicators gear-up for the future, from hands-on pre-conference workshops to several two-hour learning labs and issue roundtables. The invaluable knowledge and relationships you will gain will help you be a pioneer of communications at your agency, leading them into the future.
Conference Sneak Peak (More to Come)
Pre-Conference Workshops
This year we will have two tracks on Monday's pre-conference day:
Social Media Bootcamp: Major social media outlets including Facebook/Instagram, Twitter and Nextdoor will each be hosting a one-hour session to share their insights and answer questions. The fourth session is to be announced.
Crisis Communications/Civil Unrest: For the first session, Officer Joe Di Lillo, the Public Information Officer (PIO) for the South Euclid, OH police department will give you an in-depth look at negotiations during a hostage standoff with police. The second session will be presented by the Sacramento Police Department and the City of Sacramento, and will focus on civil unrest, police-involved shootings and how the police and PIO's work together in those incidents.
Issue Sessions
New to this year's conference, there are issue sessions that will focus on the roles, responsibilities, and challenges of public communicators across four major issues that many communities are facing. The issue topics are: climate change, homelessness, California demographics and the changing face of our communities, and BPFAs in drinking water.
Two-hour Learning Labs Learning Lab Sessions
Write On – Valerie Walston: you'll learn plain language principles to help you craft effective communications your audience will understand at first read.
Strategic Planning – Scott Summerfield and Sheri Benninghoven: Past Paul B. Clark Award winners will help you create a strategic plan for your public agency.
Video Training – Mike Watson: Join 7-time Emmy Award-winning, veteran video producer Mike Watson as he walks you through creating compelling social media video using your smartphone.
Perfect Press Conference – Steve Gregory: Steps to improve your press conference skills from planning to prep and execution to follow through.
Early bird registration and hotel reservations are now open. With over 30 inspiring sessions to push your communication skills into the future, you won't want to miss it! Stay tuned for more session information next month.
To learn more about CAPIO's 2020 Annual Conference or to register today, visit www.capio.org/conference.