Lights, Camera, Educate.
Tips for Creating Clear & Engaging Quick Tip Videos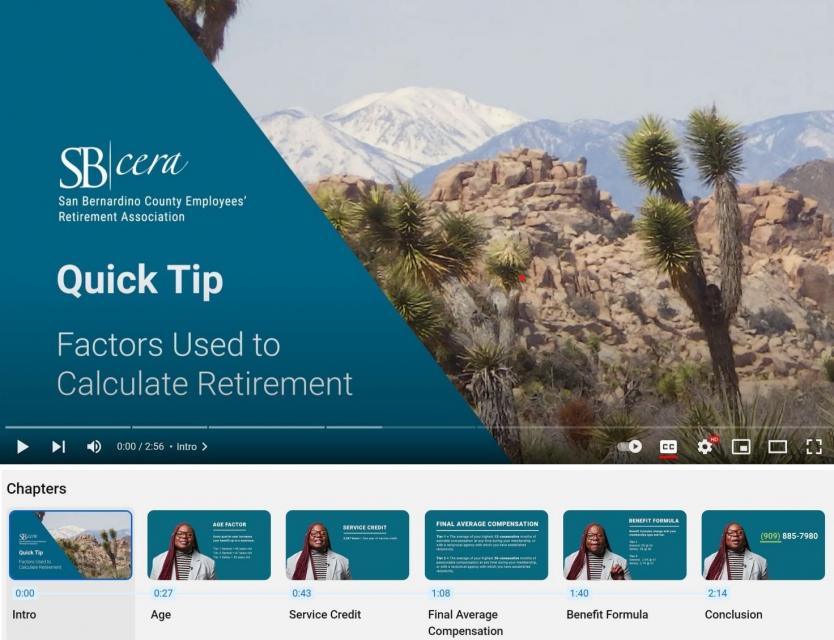 By Jalel Braden, Communications Specialist, San Bernardino County Employees' Retirement Association (SBCERA)
We're all familiar with the fast-paced digital landscape and the everchanging ways we receive information. According to Forbes' Top Social Media Statistics and Trends of 2023, an estimated 4.9 billion people use social media across the world, utilizing an average of six to seven platforms every month.
As communicators, we hold the significant responsibility of competing with those platforms and ensuring the information we share is just as impactful, if not more.
This is where the art of 'quick tips' should be considered. Beyond providing snippets of information, quick tip videos can be used as a tool to deliver bite-sized pieces of information that sticks.
Leading with authenticity is what can distinguish your quick tip videos from the wide range of content we're all contending with—leaving a long-lasting impression on your target audience.
It's important to emphasize that being part of a forward-thinking organization that is committed to offering educational information through diverse means is critical. While this is not referenced below, the transformative actions and support by leadership makes all the difference.
Speaking of tips, here are a few you can consider when creating similar quick tip videos that propel and inspire learning.
Ask Those You Serve
As communicators, we can sometimes overthink our approach to reaching our target audience, unintentionally overlooking the solution, which in most cases is right in front of us. If the goal is to convey information that is clear, concise, transparent, and memorable, obtaining feedback from the intended audience regarding the "how" has the potential to deliver long-lasting results.
In SBCERA's 2021 member engagement survey, our members told us they were most interested in "quick tip" videos as their preferred learning method. Knowing this information gave us clear direction and the outcome of educating our members in the way they want to hear from us has proven to be very positive, with a significant increase in viewership.
Be Prepared to Pivot During Production
Whether you're producing your videos in-house or through outsourcing, preparation prior to production involves several components. From script revisions, allocation of recording time, staging equipment, dress code expectations, organizing recording schedules, and accounting for any other unknowns that may come up. While we spend a considerable amount of time in pre-production, knowing how to pivot when unexpected changes occur is important. Occasionally, changes are inevitable and can be the source of frustration if you aren't prepared to embrace flexibility. Remember that these moments can give you another opportunity to lead authentically, which is vital given this particular setting.
Leverage Your Team Members
If you're in a position to extend an invitation to fellow team members to participate in filming, it is a great opportunity to not only involve them but also help them understand why these types of projects matter. Plus, involving coworkers ensures diversity of ages, races, and genders, offering a direct reflection of those you serve. It's not often that we get to invite others into the Communications Department to take part in our projects; more often, it's the reverse. However, allowing them to share this experience enhances the excitement of these projects and provides an opportunity for staff to utilize skills they may not have the chance to exercise in their current roles.
Consistent Branding Is Important
Crafting brand elements for your videos may take some time. The initial video will look different than the second and the second video may look different than the third and that's okay. It is all part of the improvement process. However, your content should be recognizable even beyond your organization's video library or social media channels. Identifiable features may include your organization's logo, introduction and conclusion sequences, tag lines, and color schemes—like many of the well-known brands we love and are familiar with. It's preferential, but maintaining a uninformed look in your thumbnails is also an easy identifier.
While these suggestions stem from single experiences, it reinforces the importance of prioritizing your objectives for all communication endeavors and serves as a reminder of the purpose behind your efforts and those you ultimately serve.
While you're here, take a moment to watch SBCERA's award-winning Factors Used to Calculate Retirement video. Be sure to explore our Quick Tip video series to see how these suggestions have influenced the production process and be on the lookout for even more videos coming soon!