Hosting Virtual Events: A Guide to Planning an Engaging Event
Power Lunch Webinar
The need to social distance during the pandemic means public-sector communicators must pivot to hosting what were normally thought of as traditional in-person events (such as ribbon cuttings, open houses and state of the cities) in a virtual format.
During this webinar, Kerry Shearer the "Livestream Expert" will guide attendees through how to successfully pull together a memorable event that resonates with key audiences and creates memorable moments for your agency.
In addition, OCTA representatives Christina Byrne, Public Outreach Department Manager, and Chris Boucly, Community Outreach Manager will provide recent OCTA case studies that will include tips, tools and lessons learned for how to host a virtual event. Since March 2020, the agency has hosted more than a dozen virtual events with more than 2,200 attendees.
Attendees will also receive a downloadable cheat sheet/checklist with additional tips and tools to take their virtual events to new heights.
Key Take-a-Ways:
Planning your event
Ensuring you have streaming bandwidth
Positioning and mounting of cameras
Lighting for your event
Ensuring great audio/sound quality for your event
Setting up Facebook Live
Using laptops, cameras and streaming software
Recorded: Wednesday, Aug. 26
Speakers: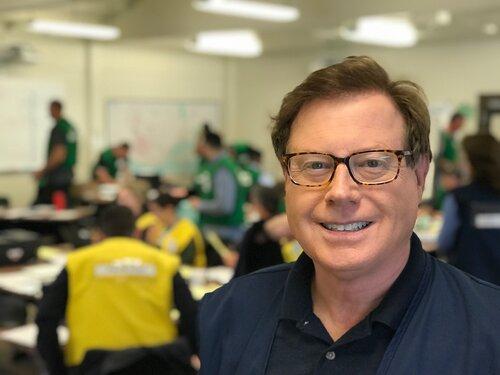 CAPIO Certificate in Communications Credit – Digital Media
APR Maintenance Credit
SOCIAL MEDIA HANDLES
Insta @thelivestreamexpert
Facebook @kerryshearerfan
Twitter @kerryshearer
Linkedin @kerrybshearer
Insta @cbyrne2004
Facebook @christinalynnebyrne
Twitter @cbyrne04
Bio
Kerry Shearer, the "Livestream Expert," has a wide-ranging background as a broadcaster, public information officer, emergency communicator, video producer, social media and marketing specialist and conference speaker.
Since 2010, Kerry has provided communications, social media and crisis response training as well as web video production to public agencies, associations and businesses.
He thrives on assisting his communications colleagues across the country in enhancing their social media and web video initiatives; helping them select the most effective tools; understand best practices; and manage a social media program effectively.
Kerry's specialty area also includes livestreaming video, which offers unprecedented opportunities to create high-impact, engaging content and devoted followers.
Christina Byrne is the Public Outreach Department Manager at the Orange County Transportation Authority (OCTA) and has more than 19 years of experience conceptualizing, designing and implementing proactive public participation and community outreach programs for large-scale transportation infrastructure projects. Her outreach experience includes fast-paced, complicated highway construction and rail projects.
She leads a team of eight staff responsible for managing all communications for 13 separate community outreach campaigns totaling more than $9 million.
Christina excels at partnering with PR firms to implement creative and cost-effective outreach plans customized to build relationships with multiple stakeholders such as elected officials, merchants, civic and community groups, residents and motorists. Her award-winning outreach campaigns have been recognized numerous times by the Orange County Public Relations Society of America and CAPIO.
In addition, Christina serves on the CAPIO board as the social media chair and is this year's CAPIO Paul B. Clark award winner, recognizing a lifetime of exceptional contributions in the field of public-sector communications.
Chris Boucly is the Section Manager of Capital Projects Outreach at the Orange County Transportation Authority. He leads a team of five full-time staff and one intern responsible for managing communications for more than a dozen freeway and rail improvement projects.
He also is the Community Outreach Project Manager for the $1.9 billion I-405 Improvement Project. In this role, Chris oversees the implementation of a multipronged outreach plan dedicated to informing stakeholders about construction activities and impacts as well as project benefits.
Prior to joining OCTA, Chris was a journalist for more than 20 years with The Orange County Register. He served in several reporting and editing roles, coordinating coverage across Orange County through traditional, visual and data-driven storytelling. Chris has a bachelor's degree in journalism from California State University, Fullerton.