Grow your career during a downturn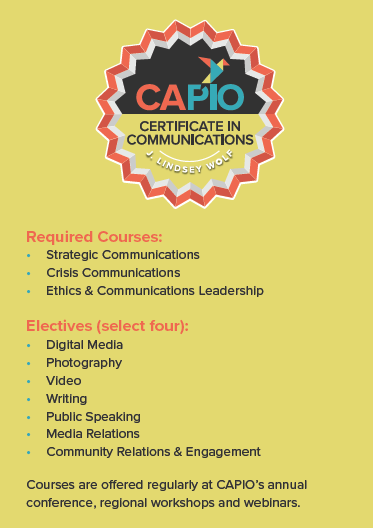 For many communications professionals, COVID-19 has presented unprecedented challenges, both personally and professionally. During uncertain times, it might feel that career growth is on hold. But even in the most challenging of times, opportunities surface to those who look for them.
CAPIO offers professional development programs that will not only help you grow through the downturn but will advance your career in the long run. From our J. Lindsey Wolf PIO Institute to the internationally-recognized Accreditation in Public Relations (APR), there is a program tailored to each step in your career.
Be an industry leader: earn your Accreditation in Public Relations
As a skilled public relations professional, you know that your success is dependent on staying relevant, resourceful, and inspired. The Accreditation in Public Relations (APR) credential certifies your drive, professionalism, and principles, setting you apart from your peers and positioning you as a leader and mentor in the competitive public relations field. CAPIO is one of only nine public relations organizations to offer its members the APR program.
Study online with the APR Online Study Course! It's an ideal way to engage with other communications professionals who are studying to become accredited or to start studying at your own pace. A free open house for the Fall cohort takes place on August 18. Learn more by visiting https://online2learn.net/APR/.
Pursue your J. Lindsey Wolf Certificate in Communications
CAPIO's J. Lindsey Wolf Certificate in Communications is one of the hallmark offerings of our association. Established in 2003, this certification, which is exclusively offered through CAPIO, provides a solid foundation of core communications courses focused on strategies and tactics to meet the evolving needs of CAPIO members and keep pace with the ever-changing communications landscape. The J. Lindsey Wolf Certificate in Communications is offered free to CAPIO members. Seven courses are needed to complete the certificate. Learn more.
***
Many of CAPIO's past webinars and in-person regional events qualify for the J. Lindsey Wolf certificate program and APR renewal. If you have questions about a course you've taken, please email us at programs@capio.org.
You've come this far. Here is what's next. Learn more at www.capio.org or contact Education and Development Chair Christine Brainerd at 916-461-6013 or cbrainerd@folsom.ca.us.