Frequent messaging is key in a crisis
CAPIO member Kerry Shearer "The Livestream Expert," Kerry Shearer Enterprises LLC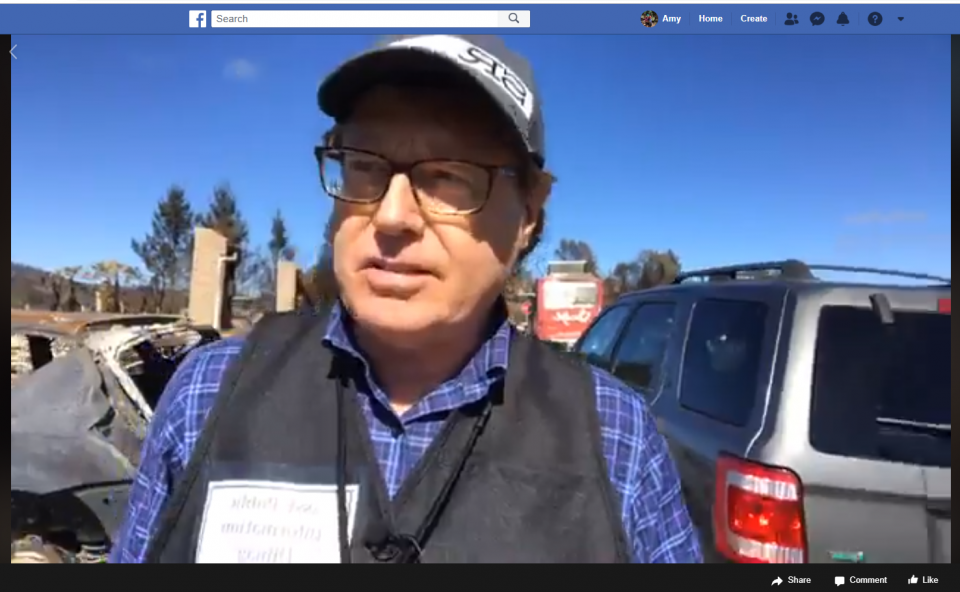 In any big disaster, such as the fires, earthquakes, and debris flows we've experienced in California in just the past few years, the public turns to social media to find out what's going on.

For crisis communicators, it's critical to be on your social platforms with frequent messaging. That positions your agency (or JIC) as the go-to resource for information about the incident.

Most agencies are pros at shooting out text-based social posts and staging big news conferences, but there is more than can be done for effective disaster communications response.

Here is what I've learned, both from my PIO colleagues across the state, and in my role serving on the PIO team for 11 days in the City of Santa Rosa Emergency Operations Center during the historic northern Cailfornia wildfires.
1) Before the crisis: meet, train and equip
Hold quarterly lunch meetings with PIOs in your region so you know everyone's names and faces before you get thrown together into a Joint Information Center (JIC) in a crisis

CAPIO member Karen Terrill of Media Survival Group recommends learning the 21 functions of a NIMS-compliant JIC and conducting training. PIO's can even create and hold their own ad-hoc "virtual" drill once or twice a year to stay prepared.

Equip yourself and your staff to operate from anywhere. That means making sure PIO staff have 20,000 milliamp (or larger) backup batteries on hand so their phones don't die. It also means making sure your smartphone is newer, has lots of memory, and contains all the right apps to do your job.
2) When the crisis event happens – don't wait to ask for additional PIO help
A large event could stretch for days or weeks, and you need support from the get-go. Seek skilled communicators from your own or other agencies who can hit the ground running and staff the JIC functions you need to cover.
3) Immediately assign one of more persons to real-time social media monitoring and response
Being highly engaged on social media shows the public that you care, and that you're in it with them. I can't even begin to describe the massive amount of goodwill and positive, amazed responses this generated from the public during the Sonoma County/Santa Rosa fires when they got real-time responses to questions and comments.
4) Put a human face on the response by using video frequently
This was another huge win in Santa Rosa. It is not enough to simply livestream a news conference that happens once or twice a day, and otherwise just send out text-based tweets or posts on an irregular basis.

I recommend taking nearly every bit of approved content you are generating at the JIC (evacuation notices, advisories, crisis updates, safety information, etc.) and turning it into either a livestream (on Facebook Live, Periscope, or Twitter Live), or a fast-turnaround recorded video that can be quickly edited. Roll up smaller news items or FAQ responses into a single video. And ALL of that can be done with your smartphone! Here are my go-to video editing and teleprompter apps:
[ ] Apple's iMovie (recently updated!)
[ ] Adobe Premiere Rush (also recently updated!)
[ ] Video Teleprompter 3 by Joe Allen
What you need to create an Emergency Video Studio
Here are the key tools you need to create live or recorded videos from the JIC in a disaster
[ ] A floor-standing video tripod that extends to 72"
[ ] A smartphone mount to attach your phone to the tripod
[ ] A wired lavaliere (clip-on) smartphone microphone
[ ] Apple Lightning-to-3.5mm headphone plug (to adapt mic for use with newer iPhones)
[ ] A dimmable, bi-color LED video light with light stand
[ ] A colorful, retractable banner with your agency logo and/or words like "Information Update" on it that your on-camera person can stand beside while delivering updates
Note: You can get Kerry's 2-page PDF containing Amazon associate links to most of the gear above, plus a checklist of tips for doing a video update from the EOC/JIC, by texting the word CRISIS to 33444.
—————————————————–
It's important that you have someone on your staff who is trained to do this. It should be someone who is not phased at all by the idea of conversationally speaking on live or recorded video using approved bullet points, and who comes across as "authentic" and "human"! That relatable human face builds enormous connection with the social media followers you are serving.
There's another practical reason to use video. "Video is prioritized in the Twitter and Facebook algorithms, so it's pushing your message higher up in people's newsfeeds" as Rob Roseen, Public Safety Information Specialist for CalFire and the Riverside County Fire Department, points out. Rob regularly uses the "On Scene" advisory format he developed to issue video evacuation notices and critical news using well-known on-camera fire department representatives.
As major events have demonstrated, the excellent work CAPIO members do communicating in a disaster saves lives, aids responders, and reassures the public.
—————————————————–
September is emergency preparedness month. Check out our full list of helpful resources and articles in this month's newsletter. Use your member log-In to VIEW OUR SEPTEMBER ISSUE.