EPIC highlight: City of San Marcos receives 2019 Best-in-Show award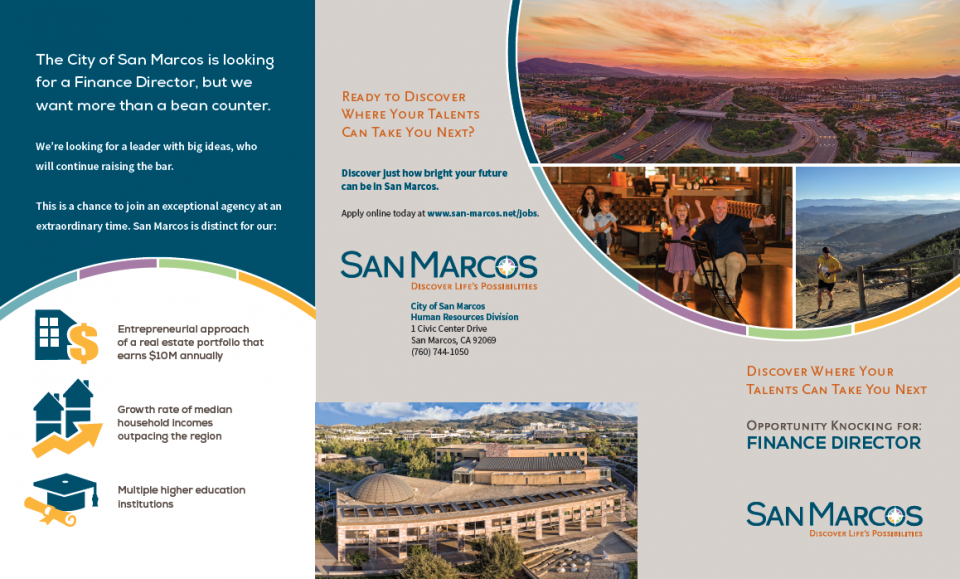 On Wednesday, April 10, the City of San Marcos was awarded with CAPIO's first Best-in-Show EPIC award in the medium population field for its talent attraction program's designed brochure.
Judges—who reviewed more than 200 entries—noted that collateral was part of a bigger talent attraction campaign created by the city and with support from JPW Communications. By letting communications drive its recruitment strategy, San Marcos attracted a higher caliber of candidate, and more of them—to the tune of a 35 percent boost in one year.
Judges especially liked that the supporting campaign videos made it clear the city did not want to hire folks who settle for the status quo.
"What really set the campaign apart is how it showed the ways the City of San Marcos is hiring people for their creativity and willingness to take acceptable risks — two things people do not immediately think of when they imagine a public-sector workforce," commented one judge.
Beyond that, the campaign elevated communications within the city, helping staff to see its value in a new light.
"This taught me communicators aren't just the press release people. They deserve a seat at the table when discussing key strategies," said Deputy City Manager Michelle Bender. "We are proud of our collaboration with JPW, which has helped us raise the bar in how we recruit talent."
To see San Marcos' complete award entry, visit https://www.capio.org/post/winning-entry-samples
CAPIO is proud to offer a transparent and competitive awards program that recognizes excellence in the industry. Each year the EPIC Awards showcase work that rises above innovation and craft – CAPIO recognizes work that makes a lasting impact for communities served in California and beyond.
To learn more about CAPIO's awards program, visit www.capio.org/awards.
Click to view full August Newsletter (Member log-in required)