Emergency Academy Overview
Register today - few spots left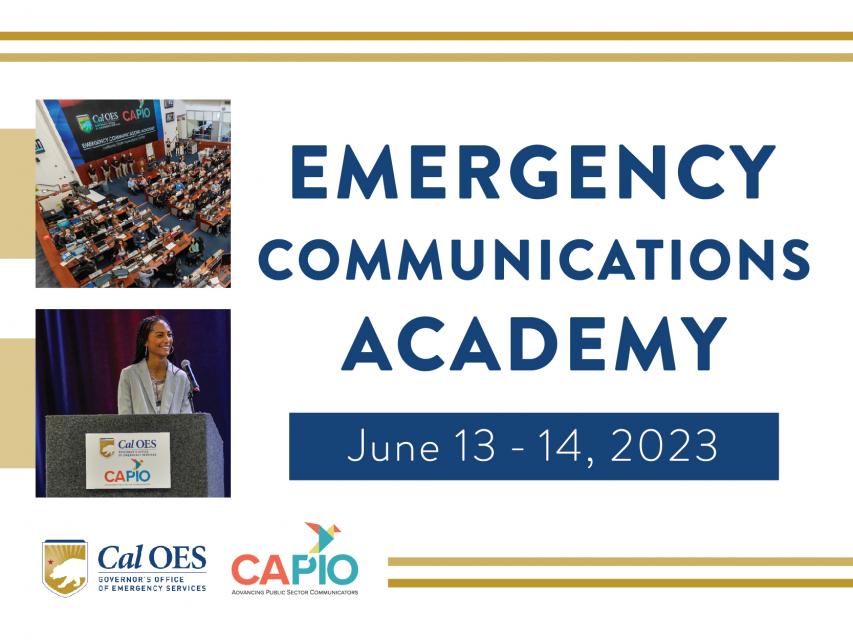 The California Governor's Office of Emergency Services (Cal OES) is once again excited to partner with CAPIO for our Emergency Communications Academy, June 13-14, 2023.
Day 1 at Lake Natoma Inn in Folsom, CA will include subject matter experts covering multiple levels of communicating in times of crisis and will be highlighted by our keynote speaker, Dr. Vincent Covello.
Dr. Covello is one of the world's leading experts and practitioners on the practice of risk, high-concern, and crisis communications and is the author of more than 150 articles in scientific journals and the author/editor of more than 20 books.
This will be the first time Dr. Covello has spoken in California since pre-Covid, and a great chance to hear from the man who wrote the book on crisis communications. If you have never heard Dr. Covello speak, this is an opportunity you won't want to miss.
Other opening day breakout sessions will include messaging for cybersecurity attacks, drought and wildfire, crisis of confidence and preparing for the perfect press conference. Subject matter experts from all aspects of local and state agencies will share best practices and
Day 2 will be held at the State's Emergency Operations Center at Cal OES headquarters in Mather, CA. Attendees will be put through real life exercises focusing on Joint Information Center (JIC), press conference and on-camera interviews.
Our Joint Information Center (JIC) training will be led by our Cal OES PIO team and will include tips and takeaways you can easily incorporate into your own JIC team when going back to your respective agencies.
Held in the Cal OES Media Room where the Governor held daily live updates during COVID, our press conference training is a must for anyone in the communications field. You will go over key tips and tricks to assure your next press conference is well prepared and executed.
For many attendees, the on-camera training on Day 2 is equal parts fear and excitement. All participants will get real world practice going in front of the camera and bright lights, working on and perfecting delivering key messaging.
All attendees will also have the opportunity to tour the State's Emergency Operations Center and get a behind the scenes look at one of the premiere all-hazard operations centers in the world.
The mission of Cal OES is preparing and protecting California. By going through this two-day Emergency Communications Academy, you will become a force multiplier in the key role of getting the right information to the right people at the right time so they can make the right decisions. Register here now.