Elevate Your Visual Communications with Canva: Tips from a Pro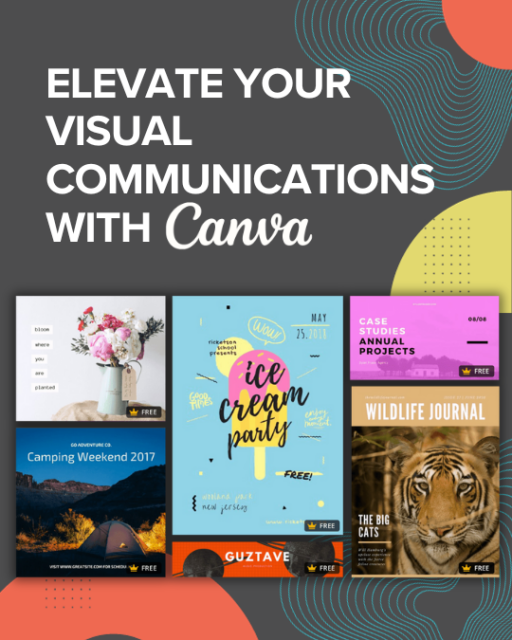 By Mirinda Glick, Document Solutions Manager, County of Placer
In the ever-evolving landscape of visual communication, Canva has emerged as a game-changer for professionals in the field. Even seasoned graphic designers proficient in wielding Adobe Creative Cloud's power have found themselves drawn to Canva's user-friendly interface, extensive design resources, and the convenience it offers in quickly creating a wide array of communication materials.
The platform has also filled a much-needed gap for non-designers stuck between the software extremes of Microsoft Publisher and Adobe InDesign. Canva has allowed our design professionals to build templates and resources to share with other employees, expanding our content creation abilities while respecting our brand guidelines.
As you navigate this digital design realm, you'll soon discover that you're not alone in harnessing the potential of Canva. Its popularity has soared, leaving a distinctive footprint across social media and email newsletters, with common visual signs becoming more recognizable. Another dead giveaway is the lack of consistency from one graphic to the next; you can picture the social media manager excitedly grabbing the latest *shiny* template from the suggested design widget. While Canva caters to both skilled designers and novices, it's vital to establish some boundaries to ensure your organization maintains a professional and consistent visual identity.
Let's start with the basics: investing in a Canva paid subscription. At just a fraction of the cost of Adobe Creative Cloud, this enhancement unlocks premium templates, integrated stock assets, AI tools, and, critically, the ability to create a custom Brand Kit. These convenient features not only save you time but also improve the quality of your published materials. Additionally, it eliminates the need for a separate stock asset website, reducing your expenses while simplifying your workflow.
Speaking of the Brand Kit, this feature provides an incredibly convenient space to store essential brand elements, such as logo files, icons, key images, specific fonts, and other resources you'll need frequently. The recent updates include the ability to add CMYK formulas to each of your brand colors, ensuring that your published graphics look impeccable, whether for web or print applications. If you need help determining where to begin, collaborating with a graphic designer can help you upload the correct files and formats, establishing a solid and robust design foundation.
As you dive deeper into the platform, resist the temptation to prioritize convenience over quality. While Canva boasts a wide selection of enticing and colorful design templates, it's crucial to remember that they usually don't align with your branding guidelines. Graphic design can sometimes feel like the Wild West, but visual consistency is vital for building trust and recognition with your audience. Taking a few extra moments to personalize each layout according to your organization's fonts, color palette, and style will pay dividends in maintaining your brand's integrity.
While Canva's built-in photo editor is excellent for handling basic tasks like color adjustments and background removal, don't shy away from tackling complex edits offline, especially if you can work more efficiently that way. Importing your Photoshop files as Canva assets can improve the quality of your published graphics, and we've found that PNG files often yield the best results, especially when you need to maintain transparency.
Moreover, for custom vector graphics, such as logos, icons, or even map boundaries, consider importing Adobe Illustrator files as an SVG. Maintaining the vector format instead of flattening your artwork into a raster image enables you to make additional adjustments within Canva, such as fine-tuning individual element colors or adding effects like shadows and outlines.
Lastly, embrace Canva's latest addition—the Magic Studio. Leveraging AI technology, Canva enhances its capabilities in a user-friendly manner. You can modify portions of an image, transform text into a custom graphic, and even generate content in your brand's distinctive voice—all within the platform. Much like ChatGPT, this feature serves to amplify our creative endeavors rather than replace our unique voice and creativity.
In conclusion, Canva is a remarkable tool that has democratized design and empowered communication professionals and non-designers alike. However, its true potential shines when it aligns seamlessly with your organization's branding and visual identity. By investing in a paid subscription, building a robust Brand Kit, and personalizing templates, you'll harness the full power of Canva while maintaining consistency and professionalism. So, let's continue to explore the ever-evolving world of visual communication, where tools like Canva can elevate our storytelling and allow us to publish quality content quickly.