Contra Costa Health builds award-winning annual report to cap historic year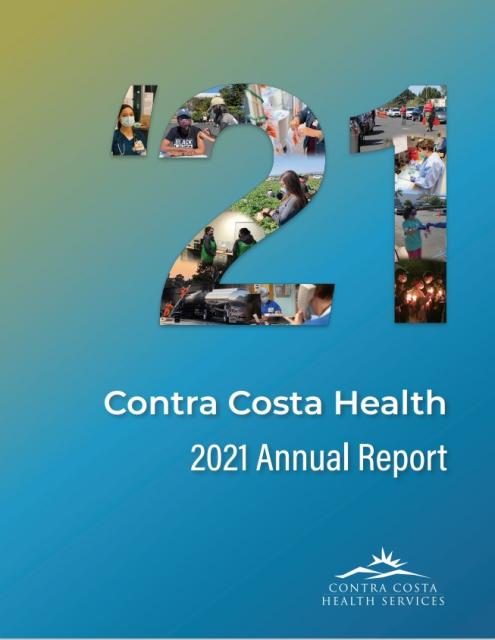 By Karl Fischer, Coordinator, Community Education & Information, Contra Costa Health
It was unprecedented, it was challenging, and it was what Contra Costa Health (CCH) was designed to do – mobilize every resource, every employee, and every program to protect the county from the worst pandemic in a century.
Mental health workers, community organizers, hazardous materials specialists and clerks were all thrust into the pandemic alongside doctors, public health nurses and other medical professionals to administer tests, set up tents, distribute vaccines, organize clinics, assist people who were incarcerated in the county jail system, and coax a frightened public to take steps to protect their health.
By the end of 2021, Contra Costa County's response to Covid had operated continuously for nearly two years, with more than 4,000 CCH employees putting themselves at risk and their personal lives on hold to address the pandemic. And while they were initially heralded as heroes, the public mood gradually shifted, and our efforts and staff were often met by a hostile public impatient with health restrictions and fueled by unfounded conspiracy theories and lies.
CCH employees needed a morale boost. They needed not only to be acknowledged for their work but to have their efforts recorded and promoted. In an unprecedented move, we elected to issue an annual report highlighting and detailing our county's amazing Covid response, rather than budgets, policy initiatives and other traditional elements of a departmental annual report.
Now in 2023, we are glad we took a chance on an unorthodox approach. The report was well received, both within the department and the community. We are grateful to our dedicated staff, who overcame unprecedented challenges to support health, safety, and wellness and to advance equity in all we do.
We are also grateful to CAPIO, which honored the 2021 Contra Costa Health Annual Report with a 2023 EPIC Award.
Telling our stories was no small task. During the initial rush, when the organization had to redirect its entire operations overnight and shift to a 24/7 schedule, chronicling those activities was hardly a priority. But when the decision was made to undertake that effort, the communications office in partnership with Brown Miller Communications (BMC) began investigating, interviewing and researching two years of employee sacrifices and successes.
Key informant interviews were conducted with each of our 15 division directors to understand the role of each part of the department in the response, document challenges and capture successes. What started as a blank slate quickly transformed into overwhelming reams of information when division leaders, excited to champion their staff's achievements, began submitting voluminous reports. At the same time, employees lined up to tell their stories, share their memories and shine a light on their colleagues' bravery and commitment.
We chose to take a completely different approach to designing the 2021 annual report. The traditional collection of charts and numbers were jettisoned to allow space for a more personal and inviting depiction of our staff's successes supported by a 12-month timeline.
The report was designed as an electronic flipbook and posted to CCH's internal website to improve employee access. Liberal use of photography, videos and infographics were included to stimulate interest. Additionally, hard copies were printed for keepsakes for employees.
We had two main objectives. We wanted to elevate CCH staff's morale by celebrating and memorializing their COVID efforts and inspire at least one-third of staff to visit the site and view the annual report flipbook. Our primary audience for the annual report was our 4,500 CCH employees.
It was a huge success on both counts. The report was warmly received by staff, who expressed their appreciation in heartfelt emails and notes. More than 65% visited the flipbook and the 1,500 hard copies quickly ran out.
We are so grateful to the many hands that shaped the report, and even more for the dedicated health professionals who helped deliver an exemplary Covid response in Contra Costa County.
One of the most gratifying parts for the communications staff was hearing about staff members signing each other's copies like they were high school yearbooks. They even chose it as the centerpiece for a time capsule interred at the county's new administration building.
You don't often hear about an annual report making such an impression – but this one sure did.