Case Study: We Support Folsom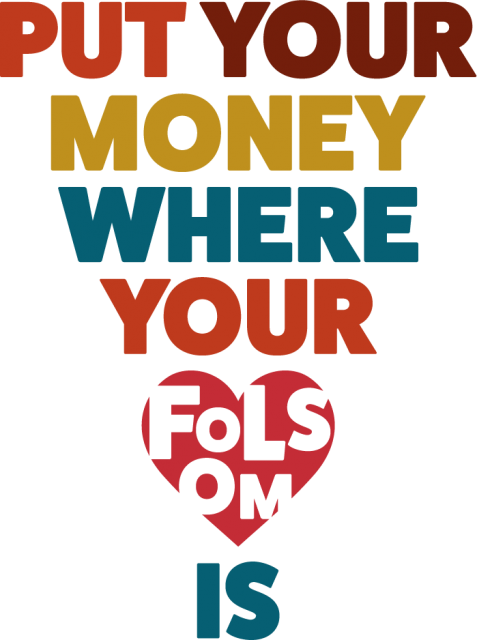 by Christine Brainerd, APR, CAPIO Education & Development Chair
It was 2020 – the heart of the pandemic and some of the darkest days for our city, our residents, and our local businesses.
Due to strict stay-at-home public health orders and a consumer shift toward online shopping, local businesses had a dramatic decrease in their sales and income. Under public health orders, many businesses had to close or modify operations, and restaurants had to move dining outdoors during an unseasonably chilly fall and winter.
We regularly heard from business community members who were struggling, and city sales tax data told the same story. Folsom businesses needed community support.
The City of Folsom Communications Office, in partnership with the Folsom Chamber of Commerce, spearheaded a multifaceted citywide communications and marketing campaign with the goal of encouraging the community to shop and dine locally.
Using the RPIE model – Research, Planning, Implementation, and Evaluation – we were able to execute a communications plan that moved the needle. The four-step RPIE process ensures communications plans are strategic and not simply tactical. Most importantly, the approach guarantees communications activities connect to the broader goals of the organization and the community it serves.
Research is a critical step in understanding the challenge you are seeking to address. Research could include focus groups, stakeholder groups, community surveys, and published data.
Based on research, the planning phase includes identifying your strategy, goals, measurable objectives, target audiences, and communities you are looking to reach. This phase also includes key message development and identifying effective communication tactics.
Implementation is the plan's third phase, where you roll up your sleeves, get to work, and execute all the tactics and actions outlined in the plan.
The evaluation phase focuses on results. This final phase helps understand whether the communications strategy, plan, and actions fulfilled the program's goals.
The RPIE process allows you to "slow down to speed up" and deliver effective results. As communicators, we are often busy, and diving right into the tactics can be tempting. However, taking the time to formulate a communications plan allows you to execute it with precision and drive results for your organization.
The We Support Folsom case study below shows the RPIE process in action.
Research
Finance data and key informant interviews were our two primary research methods. Sales tax is one of the city's primary sources of revenue, and the data demonstrated major changes in consumer spending behavior and showed a significant decrease in brick-and-mortar shopping and dining. But we knew that charts and graphs about sales tax revenue did not tell the whole story. While socially distancing, we interviewed struggling local businesses who shared first-hand experiences and challenges.
City of Folsom Communications Office staff reached out to the Folsom Chamber of Commerce in the late summer of 2020 with the idea of partnering to develop a way to engage the public about the pandemic's impact on local businesses. The City of Folsom Communications Director and Communications Office worked with Chamber staff to identify business community needs. Additional research included:
Survey CAPIO members and research other "shop local" campaigns.
Research and evaluate local business needs and challenges based on qualitative feedback and survey data from the Chamber of Commerce and the Folsom business community.
Research and recommend a budget based on the marketing campaign scope
Planning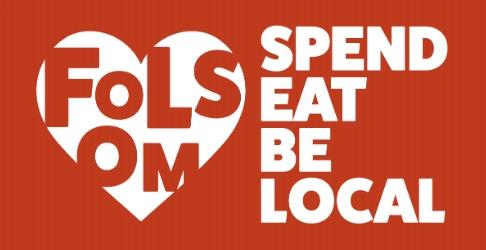 With a very short timeline, the City of Folsom Communications Director and Communications office evaluated the research, established a goals and objectives, and assembled a plan. Our goal was to develop a multifaceted, multipronged grassroots campaign that fostered community pride and inspired residents to shop local. Objectives included:
Engage and activate community organizations and activate all available resources to reach many community members through various channels.
Develop an easy-to-implement "call to action" to inspire a love for local.
Create marketing materials that were simple, unique, memorable and sharable.
Achieve a maximum impact with minimal resources.
We then developed a detailed month-by-month marketing timeline outlining all deliverables and marketing collateral with a goal of reaching 100,000+ on social media and 5,000+ through video channels. We were ready to begin implementing and coordinating a cross-platform marketing campaign that reached all residents multiple times through multiple channels.
Implementation
Officially launched on October 29, 2020, just in time for the 2020 holiday shopping season, the "We Support Folsom" campaign utilized internally-developed branding meant to convey a strong sense of love for Folsom residents' hometown.
The branding centered around a red heart with the word "FOLSOM" in bold white letters, taglines of "Spend, Eat, Be, Local", "Put Your Money Where Your ❤️ Folsom Is" and "We ❤️ Folsom," and the hashtag "#WeSupportFolsom."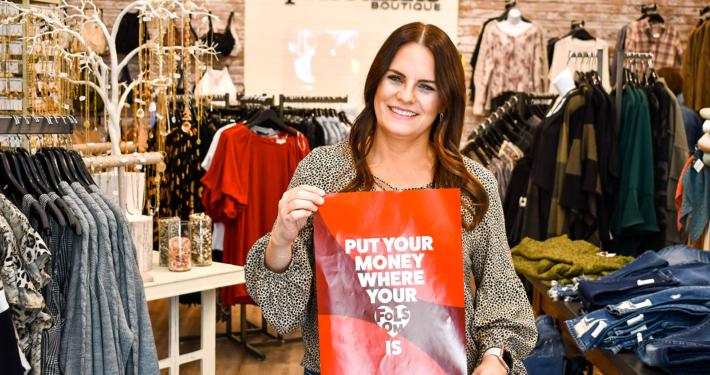 A We Support Folsom website – www.WeSupportFolsom.com – was designed and developed by Communications Office staff to inform the community about the campaign, infographics on why it's important to shop local, and a form for the community to take a pledge to shop local.
Promotional materials and marketing efforts included:
Posters and banners
In-house developed website- wesupportfolsom.com
Campaign launch video
Weekly social media posts
"Pledge to be Loyal to Local" sub-campaign

Sticker Giveaway
Video
Social Posts
"I Pledged to Shop Local" social media badge

"Shopping Local Supports… " sub-campaign

Weekly social media posts detailing how shopping locally directly benefits the city programs that create the high quality of life we maintain in Folsom

Folsom heart t-shirt giveaway
Social media campaign with over 60 cross-posted posts between the city and the Chamber of Commerce
Video: How shopping local supports city programs and services
"Folsom Shopping Network" virtual live shopping event
Gift card giveaways for sharing on social media
Video: Buy gift cards to support local
Freeway billboards
Results and Evaluation
The We Support Folsom campaign successfully met its goal of creating awareness of the impact of the pandemic on businesses and the benefits of shopping locally in your community. The social media campaign reached over 105,000 on the City of Folsom's accounts and over 54,000 on the Chamber of Commerce's accounts. More than 500 posters and banners were hung by Chamber ambassadors at local businesses and shopping centers. Approximately 300 people signed an online pledge to shop locally in Folsom and received an I Heart Folsom sticker in the mail. The five videos had a combined 10,000+ views. The freeway signs reached over 300,000 motorists daily.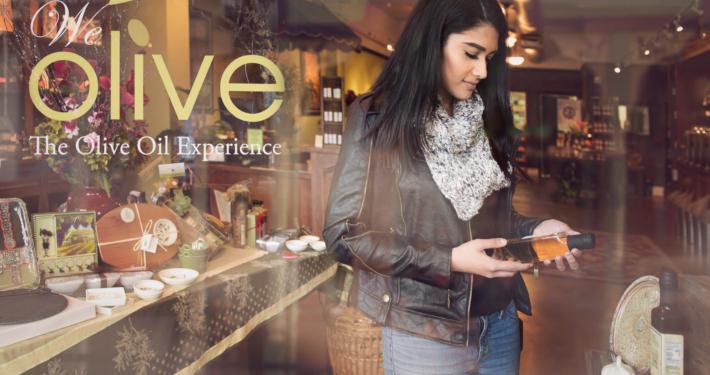 Most importantly, the response from the business community was overwhelmingly positive. The campaign truly impacted the sentiment towards local businesses with a ground swelling of support. Businesses in the Folsom Historic District reported that they saw a significant increase in revenue and foot traffic from mid-2020 to mid-2021 compared to pre-pandemic years.
Through strategic, collaborative, and effective communications, we were able to make an impact in the community and support businesses when they needed it the most.