CAPIO EPIC Award Finalists Announced!
Watch for our "Let's Make July EPIC" social media campaign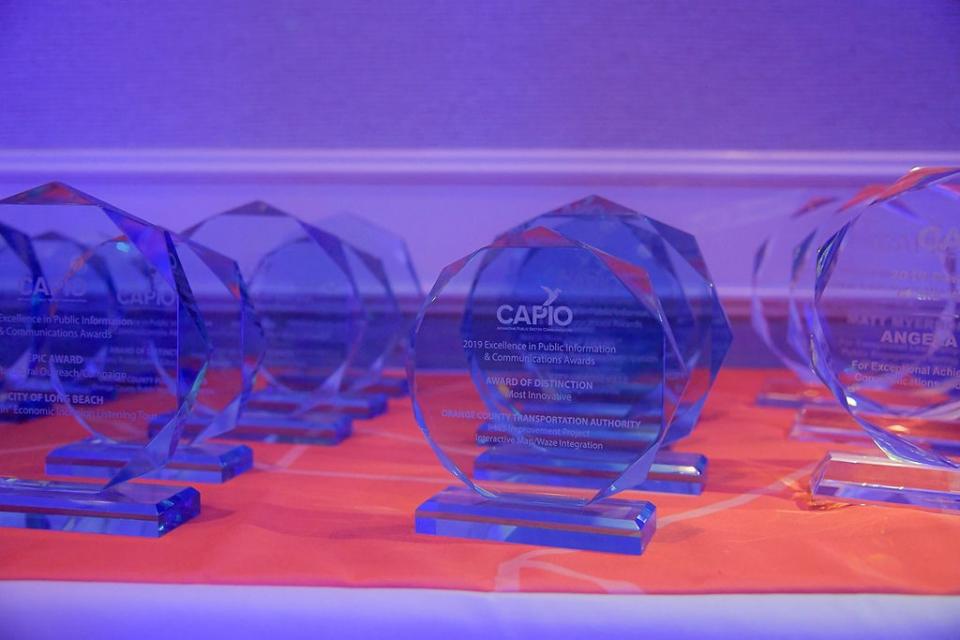 Teresa Collins CAPIO Vice President of Awards and Communications Manager, City of Escondido
We had a record-breaking 275 entries for the 2020 CAPIO Excellence in Public Information and Communication (EPIC) awards which celebrates great projects from the 2019 calendar year.
This year awards will be mailed and winners will be invited to join us in our "Let's Make July EPIC" social media campaign where we will celebrate winners throughout the month.
New this year our judging bench included communications peers from the Texas Association of Municipal Information Officers (TAMIO). Categories were assigned multiple judges and scores were averaged. Our Texas colleagues shared that they were impressed with the quality of work our California communicators are doing and enjoyed the review process very much.
We want to congratulate all of the finalists on their achievements as a CAPIO awards winner!
The list of finalists can be found below. Entrants can log in and review comments provided by their category judge(s). View | Print List of Finalists (PDF)
Annual Report
City of Folsom
Annual Citywide Communications Reporting
County of Ventura
2018 State of the County / Estado del Condado
Los Angeles County Probation Department
2018 Annual Report
Padre Dam Municipal Water District
2018 Annual Report
San Bernardino Valley Municipal Water District
2018 Annual Report
Audio/Podcasts
City of Visalia
Visalia On Air Podcast
Placer County
The Placer Life Podcast: The Placer Dead episodes
Branding
CAL FIRE
Captain Cal
City of Elk Grove
District56
City of San Marcos
San Marcos Creek Project Logo
Communications or Marketing Plans/Campaigns - Consultant-Supported
City of Oceanside and NV5
Pure Water Oceanside Community Relations, Education and Perception Change
Caltrans District 8 and Connect & Company
60 Swarm
Regional Water Authority and IN Communications
Check the Soil and Save
Roseville Electric Utility
More Powerful Together: 2019 Business Campaign
Sacramento Area Sewer District and Regional San
Elementary Schools Outreach Campaign
Western Municipal Water District
North Well Outreach Campaign
Communications or Marketing Plans/Campaigns - In-House
City of Folsom
Rainbow Bridge Centennial Celebration
City of West Hollywood
'Homeless. Not Hopeless.'
John Wayne Airport/County of Orange
Trips That Transform
Orange County Transportation Authority
OCTA College Pass Program
Community Relations/Participation
City of Carlsbad
Engaging the Public on Carlsbad's Budget Priorities
City of Cupertino
#BudgetBite Social Media Takeover and Budget and Bites Community Workshop
Port of San Diego
Chula Vista Bayfront Parks Design Outreach Campaign
SacRT
RydeFreeRT – Students Ride Free Program
Crisis Communications Response
City of Berkeley
Public Safety Power Shutoff Communications
SCV Water
PFAS Groundwater Contamination Response Plan
Ventura County Fire Department
Crisis Communications Response – Maria Fire
Dollar Stretcher
Elsinore Valley Municipal Water District
EVMWD & RCWD Waterwise Living 1, 2, 3 Campaign
Jurupa Community Services District
Flume Outreach Campaign
Riverside-Corona Resource Conservation District
Environmental Learning Resources Guide
Graphic Design – Print
CalSTRS
CalSTRS Member Handbook
City of Folsom
Rainbow Bridge Centennial Celebration
County of San Mateo Home for All
San Mateo County Second Unit Workbook and Inspiration Book
Rowland Water District
Rowland Quarterly Newsletter
Rowland Water District
Water Quality Report
The City of Santa Clarita
Sammy Stories- Meet Sammy Clarita
Internal Communications
California JPIA and Tripepi Smith
CA Joint Powers Insurance Authority – 40th Anniversary Book
Placer County
The 2019 Employee Picnic
Rancho Water
Rancho Water's Water Buzz Employee News
San Francisco Office of the Assessor-Recorder
SF Assessor Goal to Roll Initiative
Marketing and Promotional
East Bay Regional Park District
85th Anniversary Campaign
Sacramento Area Sewer District
First-Ever FOG Newsletter
Media Event
City of Carlsbad
Connect & Launch – Carlsbad Connector Launch Press Conference
City of Oceanside and NV5
City of Oceanside's Green Oceanside Kitchen Launch Event
Most Innovative Communications
City of Sacramento Front Street Shelter
Lost2Found
City of Santa Clara
The Great White Website Launch
Sweetwater Authority & Otay Water District
Hydro Station Education Experience
Newsletter or Magazine
Central San
Pipeline Newsletter
City of Folsom
City News Newsletters
City of Temple City
CONNECT Magazine Rebrand
Ventura County Area Agency on Aging
LIVEWell
Photography
California High-Speed Rail Authority
Pile Drivers Local 34 Photography
Central San
Heavy Lifters
City of West Hollywood
Pride In West Hollywood Photography
Placer County Water Agency
Water System Photo Gallery
Preparedness/Public Safety Education Campaign
Sacramento Regional Transit District (SacRT)
SacRT Forward – Public Outreach Campaign
Ventura County Fire Department
Public Safety Education Campaign
Social Media Best Use Overall
City of Santa Clarita
Saugus Strong- Instagram Tiles
City of West Sacramento
#onlyinwestsac
Social Media Campaign
Central San
"Wipes Clog Pipes" Social Media Campaign
Municipal Water District of Orange County
MWDOC Strategic Digital Communications – Imagine a Day Without Water
Special or Community Event - One-Time
City of San Marcos
San Marcos Creek Project Groundbreaking Ceremony
City of Temple City
Temple City Photo Contest
Riverside-Corona Resource Conservation District
Riverside Pollinator Festival and Habitat Planting
San José Department of Parks, Recreation and Neighborhood Services
Explore Your Parks
Special or Community Event – Recurring
City of Citrus Heights
The Best Lights In Citrus Heights Competition
City of Folsom
Folsom Community Service Day
Municipal Water District of Orange County
2019 MWDOC Water Awareness Poster Contest
Ventura County Fire Department
Everyday Heroes Fair Exhibit
Video Production – Event Coverage
County of Marin
Marin Fair Minute
Video Production – Long Form
City of Carlsbad
The State of Carlsbad – Trustworthy and Valuable
City of Walnut Creek
City of Walnut Creek Specialized Recreation: Best Day Possible
City of West Hollywood
Getting to Zero
County of Marin
State of the County 2019
Eastern Municipal Water District
Patrick the Poo
Newport-Mesa Unified School District
Early College High School Promotional Video
Placer County Sheriff's Office
Placer County Sheriff's Office Recruitment Video
Video Production – Series
Association of California Water Agencies
California H2O: Flowing for the Future
City of Concord
#TeamConcord Video Series
City of Indian Wells and TripepiSmith
City of Indian Wells SOTC Video Series
City of Long Beach
City of Long Beach: Long Beach Life Video Series
County of Marin
Marin Fair Minute
Video Production – Short Form
City of Chula Vista and NV5
"THIS is Chula." Video
City of Moreno Valley
Moreno Valley Code Crusaders
City of San Ramon
"For Housing, What Does "Low Income" Mean" Short Video
City of West Hollywood
Recreational Reefer Madness
Website/App
City of Santa Clara
SantaClaraCA.gov Website Redesign
Contra Costa County
Contra Costa County, Office of Communications & Media, "Virtual Office"
San Diego County Water Authority
Water News Network
Writing
City of Carlsbad
City Matters
City of Santa Clarita
Saugus Strong Article
Sacramento Area Sewer District
Sacramento Area Sewer District's First-Ever FOG Newsletter