CAPIO announces the 2022-2023 Board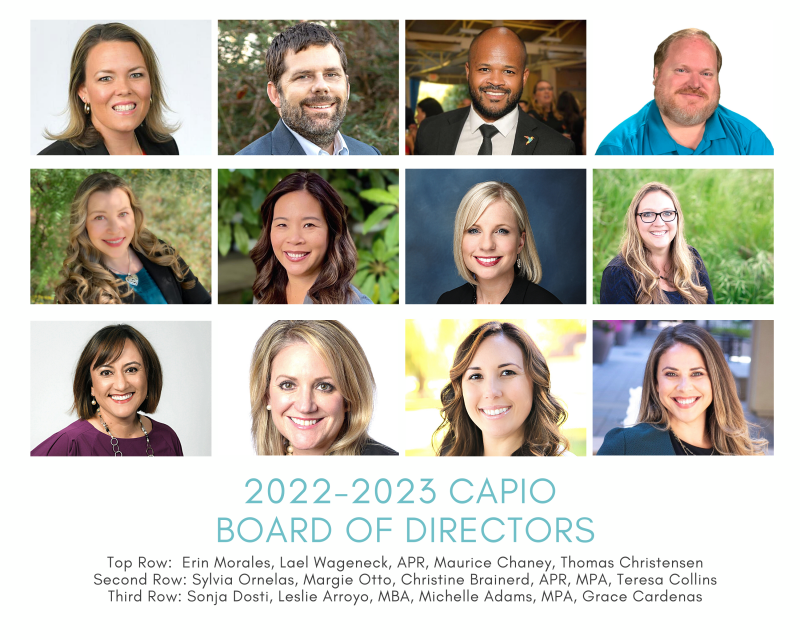 CAPIO is pleased to announce the 2022-2023 Board of Directors. As the state's leading government communications association, the California Association of Public Information Officials leans on volunteer leaders to guide the association strategically to serve our 800-member network of public communicators. Read on to learn more about our board members.
The elected 2022-2023 CAPIO board members include:
President – Erin Morales, government and public affairs supervisor, Cucamonga Valley Water District
President-Elect | Treasurer - Lael Wageneck, APR, public information officer, Santa Barbara County Public Works Department
Immediate Past President – Maurice Chaney, public information office, City of Roseville Environmental Utilities
Vice-President, Conference – Tom Christensen, communications specialist, County of San Diego
Social Media Chair – Teresa Collins, deputy director of communications, City of Escondido
Website Chair – Grace Cardenas, strategic communications manager, Western Municipal Water District
Regional and Membership Director, Southern California —Michelle Adams, customer experience manager, Western Municipal Water District
Regional and Membership Director, Central California — Sonja Dosti, public information officer, County of Fresno
The 2022-2023 board members continuing their term include:
Vice President- Awards – Sylvia Ornelas, public information specialist II, Rancho California Water District
Vice President Communications – Margie Otto, public relations & marketing manager, City of Vernon & Public Utilities
Education and Development Chair – Christine Brainerd, APR, communications director, City of Folsom
Northern CA Regional & Membership Chair – Leslie Arroyo, MBA, communications director, City of South San Francisco
CAPIO's board members are elected and serve rotating two-year terms. Each year, board members are voted on by CAPIO members throughout the state and represent the organization's diverse membership, including board members from state organizations, special districts, school districts, cities and counties.
To learn more about CAPIO's Board of Directors, visit CAPIO's website.