CAPIO ADVANCED TRACK: Communications 20/20: Past, Present and Future Planning
Power lunch webinar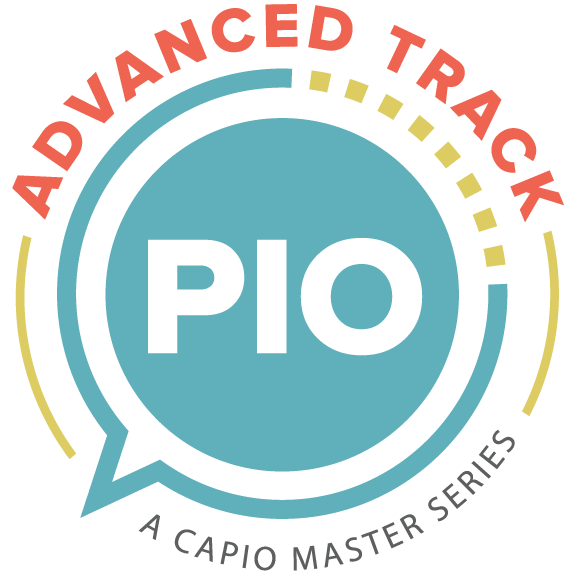 A MEMBER EXCLUSIVE TRAINING
The field of communications is constantly evolving. How do we learn from the past as we prepare for the future?
Join veteran communications professionals Gabriela Dow and Rebecca McColloch Cole. They will share what they learned in their more than two decades working with hundreds of California public agencies media, tech/startups, politics, public affairs, and public/private partnerships. In addition, they will discuss what communications pros can anticipate for the next 20 years.
During this webinar, Gabriela and Rebecca will provide attendees with an overview of current strategic planning case studies that focus on specific initiatives and emerging practices/deliverables that meet the needs of California public agencies. These case studies are based on past proven track record of anticipating and meeting challenges as well as embracing opportunities. In addition, attendees will learn about communications methodologies, processes, metrics as well as tangible deliverables (constructed, digital and hybrid). Gabriela and Rebecca will also touch upon how to include integrated marketing and diverse engagement as part of your communications strategy.
CAPIO's Advanced Track courses are offered to members with more than five years of experience in communications (or related field) and/or to CAPIO members who have completed CAPIO's Certificate in Communications.
Speakers:
Recorded: October 12
Social Handles
Website
BIO
Gabriela Dow
Gabriela is a communications specialist with more than 26 years of experience in public outreach, public affairs and media relations. Her experience includes development of communications strategies and long-range programs, community relations, construction management, message and collateral development, events management, media relations and integrated marketing and social media technology. Gabriela's career began in print journalism and television news, including work at two CNN bureaus (Los Angeles and Washington DC) and KCBS News (Los Angeles). She conducted press advance for a presidential campaign and work at the White House Office of Public Liaison (now known as the Office of Public Engagement) and served as an Intergovernmental Affairs Officer for the Governor of Puerto Rico. She went on to launch technology startups, including GovPartner in 2000, which led the industry for secure, innovative e-Government solutions implemented in over 100 local governments, including the City of Houston and Abu Dhabi Municipality, UAE. Most recently she has worked with leading global engineering firms focused on water/wastewater and transportation programs; and currently serves as a Director of Public Affairs and Community Relations for Ardurra.
A native of Guadalajara, Mexico, Gabriela is fluent in Spanish and offers true bi-cultural engagement for diverse communities. She has provided Hispanic outreach in the U.S., Mexico and Spain. Her community service includes tenures on the board of San Diego Habitat for Humanity, educational foundations, public works industry and college board advisory panels.
Rebecca McColloch Cole
Rebecca Cole is a director of public affairs and community relations at Ardurra. With 27 years of experience, she manages large-scale infrastructure improvement programs and has developed and implemented award-winning public affairs programs for local governmental agencies that span southern California. She specializes in public outreach for government agencies with unique expertise in construction outreach, utility undergrounding, water/wastewater, environmental and transportation projects. Rebecca has worked on controversial, high-profile projects in some of the most vocal and organized communities in San Diego County where she's turned the most vocal opponent into an ardent stakeholder.