CAPIO 2023 State of Communications
Webinar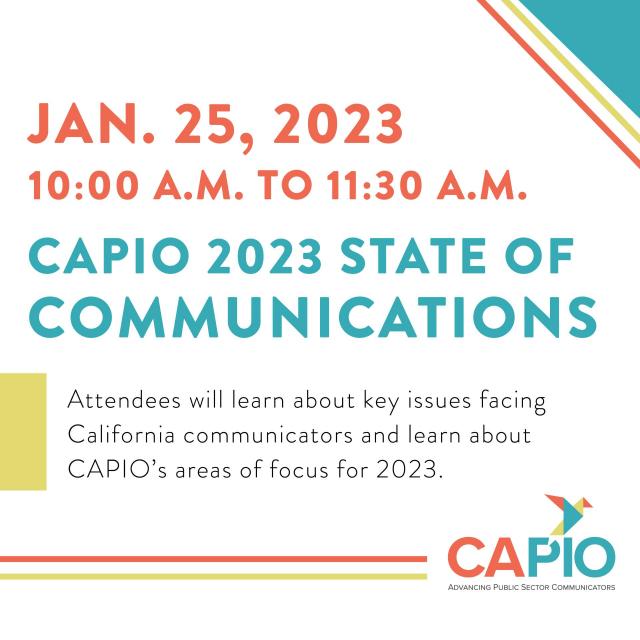 Welcome to 2023 where public-sector communicators continue to balance ever-changing communications strategies, priorities and best practices as well as keep the lines of two-way communication open for the communities they serve.
During CAPIO's 2023 State of Communications webinar, attendees will learn about key issues facing California communicators and learn about CAPIO's areas of focus for 2023 from CAPIO's President Erin Morales and CAPIO President-Elect/Treasurer Lael Wageneck, APR.
Attendees will also hear from seasoned communicators on trends and best practices they can immediately use in the new year.
Key takeaways from this webinar include:
Statewide topics that will affect public sector communicators in 2023
CAPIO's areas of focus for the new year
Trends impacting public agency crisis communications
Tips and tools for ace media relations and get your agency news covered
What's new for Facebook and Instagram
Speakers:
Recorded: January 25, 2023
Cost: $30 members/$45 non-members
CAPIO Professional+ Membership $0
APR Continuing Education Unit
BIOS
Joshua Dean
Prior to working at the County of Fresno, Joshua produced several travel shows for Inzane Entertainment that aired on HDNet, Drink.TV, and NatGeo. In 2015, he moved back to Fresno where he worked at KSEE 24/CBS 47 news for six years; during this time, he won an Emmy for his coverage of the Creek Fire. His career took a short detour when he studied at and graduated from the fire academy—the County is grateful he knows how to put out both media and literal fires.
Lael Wageneck, APR
Lael Wageneck, APR, is the Public Information Officer for the Santa Barbara County Public Works Department which serves more than 400,000 residents. He has over 15 years of experience in media production, public relations and public administration, and has presented at many CAPIO conferences on topics from photography to ethics. He is CAPIO's current President-Elect & Treasurer and previously served on the CAPIO Board as the Central California Regional Chair from 2015-17.
Erin Morales
Erin Morales has nearly 20 years of experience in the public sector, specifically working within the water industry. Erin joined the Cucamonga Valley Water District (CVWD) in 2007 and is the Government and Public Affairs Supervisor. Her areas of focus are public outreach, customer relations, marketing, legislation and policy, and water use efficiency. She has been a CAPIO member for 15 years and currently serves as CAPIO's Board President.
Scott Summerfield
Scott is a principal of SAE Communications. He provides crisis communications counsel for numerous local government organizations and advises on emerging issues such as cyberattacks, Public Records Act, and First Amendment videography. Scott is a Dean of Instruction at the California Specialized Training Institute (CSTI), CAPIO past president and lifetime member, CAPIO Paul Clark Award winner in recognition of outstanding service, grants chair of the Bay Area Sports Hall of Fame, past executive board member of the City-County Communications and Marketing Association (3CMA), past board member of the Bay Area Cable Excellence Awards, and guest lecturer at the University of Southern California's Annenberg School of Communication. Scott is a graduate of the Telecommunications and Film program at San Diego State University.
Shari Benninghoven, APR
Sheri Benninghoven, APR, is the former Communications Director of the League of California Cities and one of California's most experienced public relations professionals in helping corporations and public agencies develop strategic public relations programs. As one of two principals of SAE Communications, she serves as counsel to the firm's public agency clients. Areas of expertise include writing public agency communications plans, writing National Incident Management System (NIMS)-compliant crisis communications plans, counseling agencies when crisis strikes (from mass casualty incidents to "crises of confidence"), teaching key message development and delivery, and executive coaching.
Adán Chávez
Adán Chávez currently serves as the California State and Local Lead for the U.S. Politics and Government Outreach team at Meta, where he liaises with government officials, community stakeholders, government organizations, campaigns, and political organizations at the state and local government level to build out their presences on Facebook, Instagram, and across Meta's family of apps, through best practices and understanding new tools. Prior to Meta, Mr. Chávez served as the Deputy Director of Civic Engagement for the NALEO Educational Fund — the nation's leading non-profit, non-partisan organization that facilitates full Latino participation in the American political process, from citizenship to public service.
Kylie Fryar
Kylie works on Instagram's Politics & Government Outreach team where she focuses on supporting elected officials and their teams globally. Prior to Instagram, Kylie spent 5 years working for the California State Senate and managing communications for various associations. Kylie lives in Sacramento with her boyfriend and loves to golf on the weekends.