Cal OES and CSTI to offer free Emergency Operations Center training materials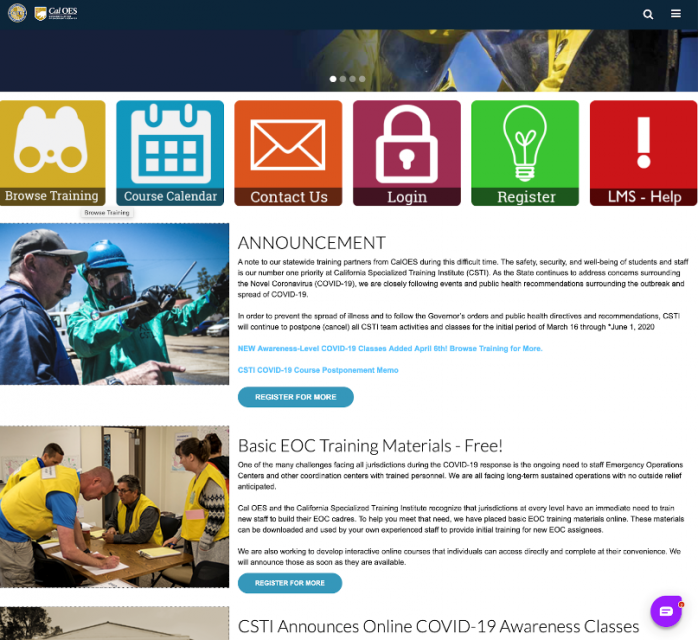 One of the many challenges facing all jurisdictions during the COVID-19 response is the ongoing need to staff Emergency Operations Centers (EOC) and other coordination centers with trained personnel. We are all facing long-term sustained operations with no outside relief anticipated.
California's Office of Emergency Services (Cal OES) and the California Specialized Training Institute (CSTI) recognize that jurisdictions at every level have an immediate need to train new staff to build their EOC cadres. To help you meet that need, Cal OES has placed basic EOC training materials online. These materials can be downloaded and used by your own experienced staff to provide initial training for new EOC assignees.
Cal OES is also working to develop interactive online courses that individuals can access directly and complete at their convenience. They will announce those as soon as they are available.
Available Materials Based Courses:
CSTI LOGISTICS
CSTI PLANNING & INTELLIGENCE
CSTI FINANCE & ADMINISTRATION
CSTI OPERATIONS
CSTI MANAGEMENT
To create an account in the CSTI LMS:
Visit CSTI.ORG or https://csti-ca.csod.com/. Click the green register button on the center of the screen. Follow the on screen instructions to set up your account.
To login to the LMS:
Visit CSTI.ORG
Click the purple Login button center of the screen. On the Login Page enter the e-mail and password you used to register.
To locate the Materials Based courses within the CSTI LMS:
Use the LMS home menu to navigate to MENU > CSTI Courses > Browse for Training
Select the small document icon to filter Materials Based Courses.
Select the Materials Based Training you wish to take.
Select Launch
A new blank window will open, and the download of the document will be shown below. (Your browser may show a slightly different view). Once downloaded, click the small arrow icon and choose "open". The Power Point will open.
To complete the course and receive a completion certificate navigate to your LMS Transcript and Mark Complete.
Menu > Home > Universal Profile – Use Mark Complete Button next to materials based course name.
These presentations can be downloaded by any user.