Behind the crisis, Monrovia Fire & Rescue
Perspectives from Brad Dover, Fire Chief, Monrovia Fire & Rescue
By Jackie Tran, Communications Analyst, City of Monrovia
On Sept. 6, flames erupted in the Angeles National Forest located in Azusa, California. Dubbed the Bobcat Fire, the fire burned more than 8,000 acres in just under 48 hours and was quickly moving towards the foothill communities in Monrovia. A wildfire of this size had not been seen in Monrovia for nearly 40 years, and the steep terrain and dry fuels created ample challenges for firefighters. For the next 13 days, Monrovia Fire & Rescue worked tirelessly to ensure that residents remained safe, while performing strategic operations to combat the fire.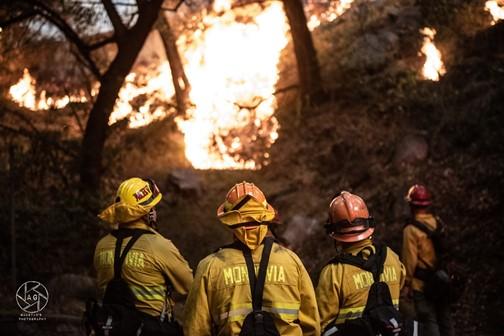 Navigating the crisis
Knowing that the fire had the potential to become destructive, Monrovia Fire & Rescue navigated the crisis by relying on:
Training received over the years;
Individual team members' unique skillsets;
Support from leadership and colleagues;
Confidence in the supporting agencies; and
Support from the community.
Supporting the organization and community
Throughout the emergency, the safety of Monrovia residents remained the highest priority. From public works to law enforcement, every department rose to meet the challenge. The public works team set up barricades to keep evacuation routes clear, while police officers went door-to-door to provide evacuation information and the community center became an Information and Cooling Center to address the community's concerns.
Maintaining morale
Although the City of Monrovia has moved into the recovery phase, the emotional and physical toll from the crisis remains. After facing an emergency together, members of Monrovia Fire & Rescue were brought closer as they were all focused on working as a team to get through the challenge. The crew finds comfort in:
Listening to one another;
Receiving community support; and
Focusing on the positive.