April is APR Month
April is APR month, which recognizes that not everyone can do what we do as government communicators. You may have seen our social media posts or heard the buzz that CAPIO is one of only nine organizations to administer the internationally recognized APR.
In the world of communication professionals, the Accreditation in Public Relations (APR) is the gold-standard in credentials earned by practitioners who commit to the profession through ethical practices and sound judgement, strategic perspectives, knowledge of best practices and the use of the research-planning-implementation-evaluation (RPIE) process.
Unlike other professions (e.g., physicians and attorneys), the field of public relations does not require licensure or certification to practice our craft. But it does require expertise, knowledge and training to be a successful and strategic communications professional and counselor. The decision to pursue the APR is both personal and professional.
Communications and public relations has moved far beyond the stereotypical spin doctor and press agents of the 20th century. Today's communications practitioners play a vital role in reputation management, crisis communications and issues management. A seasoned pro operates at the strategic level, focusing on target audiences and measured results, not just glitzy media coverage and guerilla-style publicity stunts.
Accreditation is a mark of distinction. The APR is earned through a rigorous process. Practitioners are required to present their knowledge during a panel interview to peers who have their APR. This panel interview is followed by a comprehensive examination that tests the candidate's knowledge of the field. Perhaps most importantly, the APR signifies an understanding and commitment to a code of ethics and ability to think and plan at a strategic level.
Hear how the APR has elevated your fellow CAPIO members: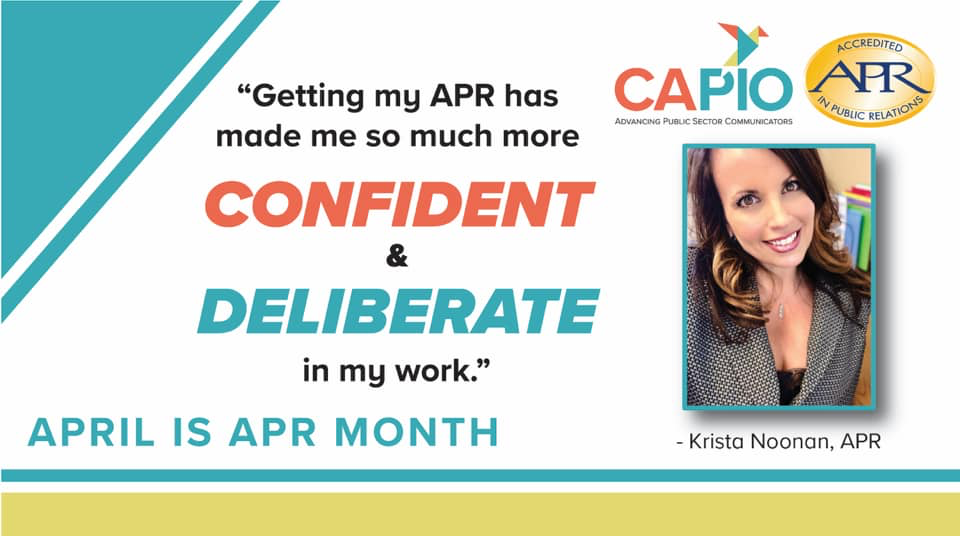 "Receiving my APR was a humbling and eye-opening journey, one that I'd highly recommend for all communications professionals considering it. This coveted accreditation is a milestone to celebrate the breadth of understanding and experience you have in this dynamic and ever-changing industry. The APR elevated me on many levels, both personally and professionally, as a PR thought leader and strategic communications executive. Plus, CAPIO offers a number of supportive resources and study guides to help you along the way." –Krista Noonan, APR, Chief Communications Officer, Modesto City Schools.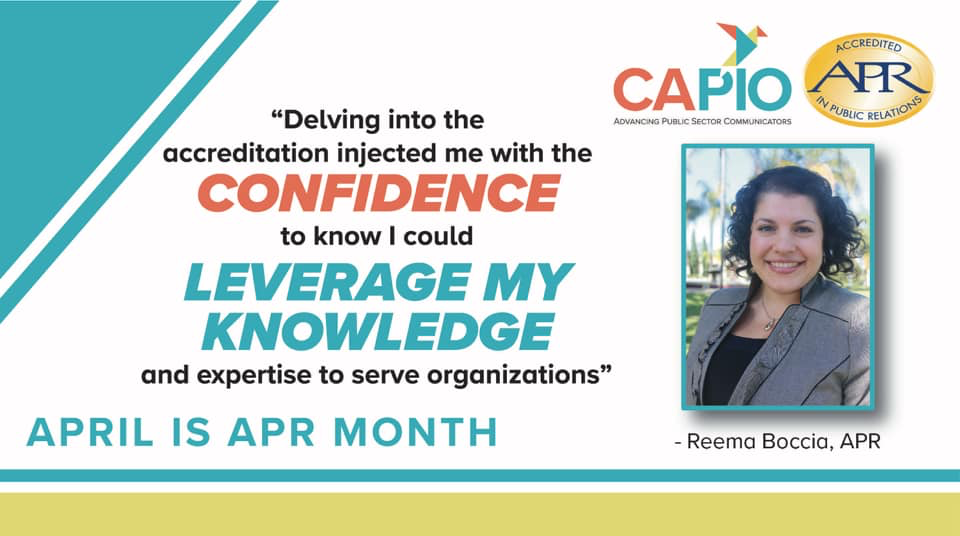 "Completing my APR in 2013 motivated me to launch my own PR firm after working in a corporate environment for many years. Delving into the accreditation injected me with the confidence to know I could leverage my knowledge and expertise to serve organizations and be a strategic partner and resource for their communication needs. I am grateful for the APR and its positive influence in my professional career path."– Reema Boccia, APR, Principal, Two Rivers Strategies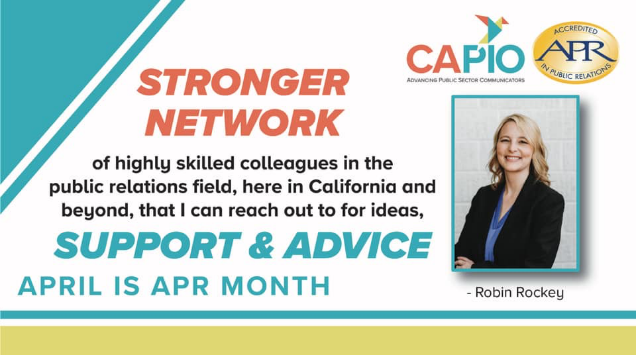 "I chose to embark on the accreditation process to cultivate a more strategic mindset and to demonstrate my commitment to excellence and professional development. The APR process enabled me to elevate the level of my public relations practice, and to learn from public relations professors and practitioners at public, private and nonprofit organizations. I now have a much stronger network of highly skilled colleagues in the public relations field, here in California and beyond, that I can reach out to for ideas, support and advice throughout my career. It's a wonderful feeling to know that can serve as a resource for them, as well."–Robin R Rockey, APR, Communications Manager, City of San Marcos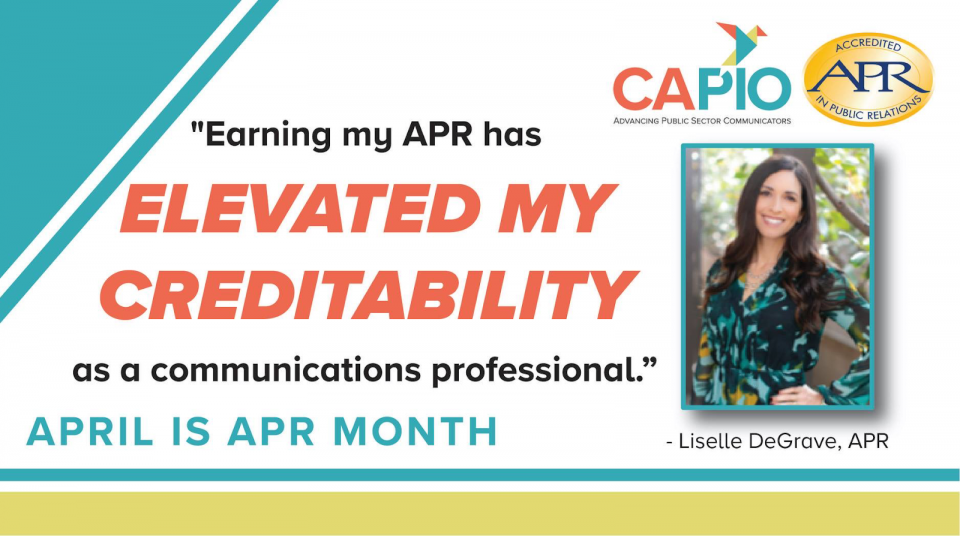 "Earning my APR has elevated my credibility as a communications professional. The APR is regarded as a high distinction in the public relations field, and I am proud to stand side-by-side with others who have achieved this honor."–Liselle DeGrave, APR, President/Founder, DeGrave Communications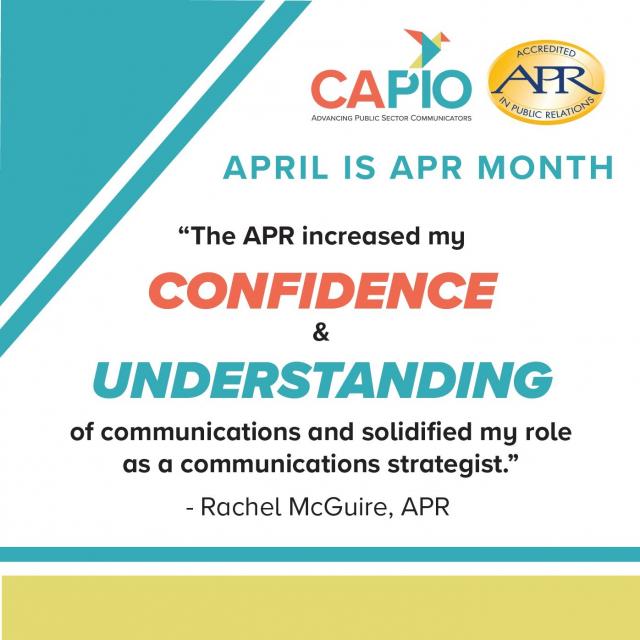 "The APR increased my confidence and understanding of communications and solidified my role as a communications strategist. I highly recommend becoming accredited to fellow communications professionals who are interested in taking their careers to the next level. CAPIO's APR program is incredible and provides those pursuing the APR with mentors, study groups and resources to ensure they are successful."–Rachel McGuire, APR, Founder & CEO, RMG Communications
To learn more about the APR, visit CAPIO's APR web page.