Green PR
PRSA LA Event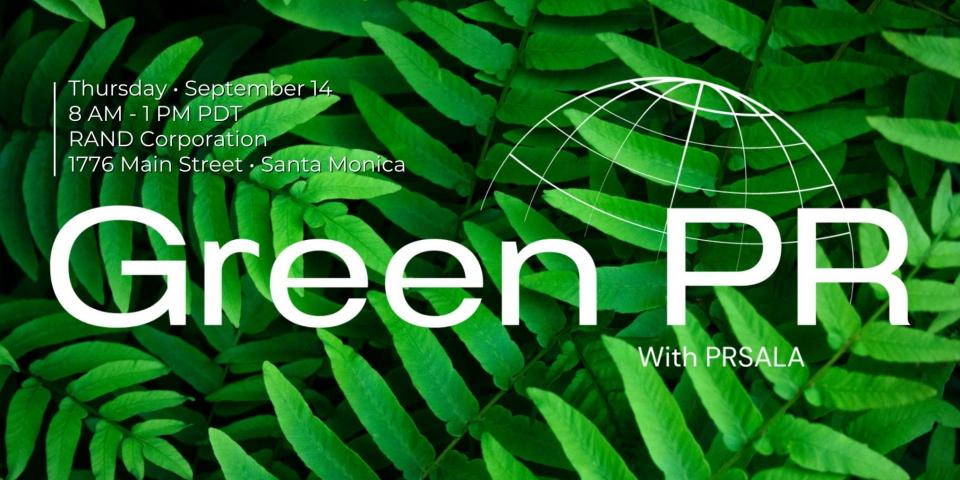 Who should attend: This session is designed for any and all communications professionals – from public relations, investor relations, and marketing — at all levels, including executives.
A half-day seminar of speakers and panels describing the latest thinking, strategies, and issues facing companies and organizations in communicating their sustainability efforts, compliance with a growing number of regulations, responding to consumer demands for more sustainability products or operations, how to answer accusations of "greenwashing" or respond to allegations of "woke capitalism" and more.
Our opening session is with David Fenton, founder of Fenton Communications, one of PR Week's 100 most influential PR people, and considered a pioneer in social-cause public relations. Attendees will get a copy of his recent book – "The Activist's Media Handbook." Our luncheon speaker is Magali (Maggie) Delmas, Professor of Management at the Institute of the Environment and Sustainability, UCLA Anderson School of Management, a foremost expert on corporate sustainability reporting. Maggie and her colleagues have recently released a "Transparency Index" into corporate sustainability.
Other speakers during our morning panels include Eliza Ruggiero, SVP of Abernathy H-Advisors; Erik Olvera, Chief Campaigns Officer at Fenton Communications; Erin Curtis, Vice President at Fiona Hutton & Associates and former Deputy Secretary, Communications & External Affairs at CalEPA; and Aurora Winslade, Edison International's Director of Sustainability.
Pricing:
Early bird rate (Sales end on Sep 6, 2023): PRSALA members $200. Nonmembers $275
Regular rate: PRSALA members $275. Nonmembers $345. PRSSA Students $25
Lunch session only: PRSALA members $50. Nonmembers $65. PRSSA Students $15.