Poster contest winners announced!
Congratulations!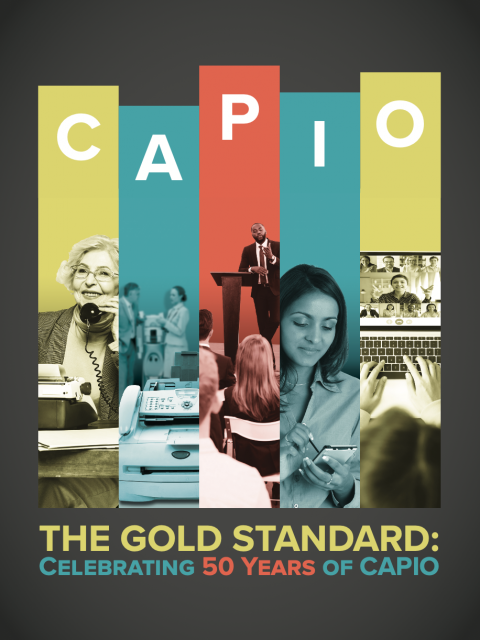 TOP WINNER
design by: VITO LABELLARTE | WESTAMERICA COMMUNICATIONS
Congratulations to Vito Labellarte and Westamerica Communications on their entry which garnered top honors in our poster contest! Conference participants will be able to pick up a copy of this award-winning poster at the 2021 CAPIO Annual Conference!
Poster narrative: "This design depicts a visual representation of the aspects and services of CAPIO's 50 years of existence. Using CAPIO's brand colors, each panel/column represents a decade on how CAPIO communicates with its clients: 1970s (land-line telephone and typewriter), 1980s (fax machine), 1990s (seminars and conferences — representing all decades), 2000s (PDA), 2010s (laptop virtual meeting)."
COMMUNITY CHOICE WINNER
design by: JOE REDMOND | CITY OF SANTA CLARITA
Congratulations to Joe Redmond from the City of Santa Clarita on being selected by the CAPIO membership for our Community Choice honors!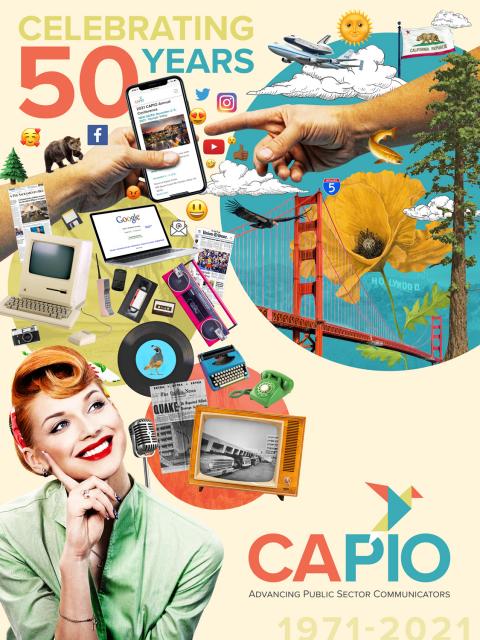 Design narrative: "In designing this poster, I wanted to show how communications has transformed and evolved from the early 70s through present day. We take a trip down memory lane, beginning with television, newspapers and radio until we reach the advent of computers and smart phones, culminating with the latest outreach platform – social media, which continues to challenge communicators with new platforms and trends.
I utilized the CAPIO color palette throughout the poster – each circle highlights one of the main colors and features a background familiar to Californians – Yosemite in the red, a scenic ocean in the yellow and the world famous Hollywood sign in the blue. Icons specific to California were used, including the state bird, flower and flag, along with some of the more famous icons found around the state.
The collage theme was chosen to represent how we are all connected by shared experiences, how technology is constantly shaping those experiences and how much every aspect of our lives bleeds into the next."
———————–
As always – we appreciate those talented graphic design artists who can say more with an image than what 1000 words could say. We also want to thank all of those who submitted entries for the contest! Thank you!
THANK YOU TO EVERYONE WHO SUBMITTED AN ENTRY FOR THIS FUN CONTEST!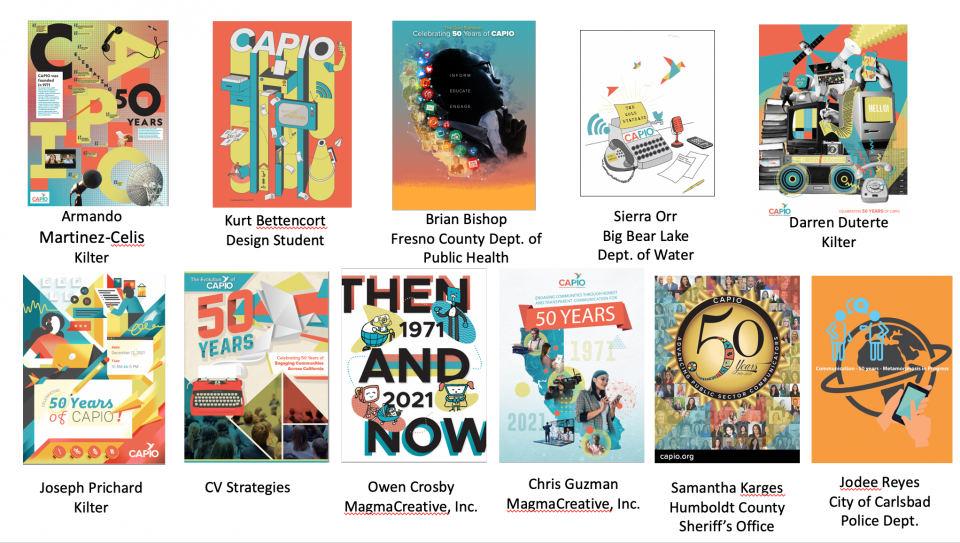 Brian Bishop
CV Strategies
Jodee Reyes
Joe Redmond
Kilter
Kurt Bettencort
Magma Creative
Samantha Karges
Sierra Orr
Westamerica