CAPIO 50th Art Challenge
Calling all creatives!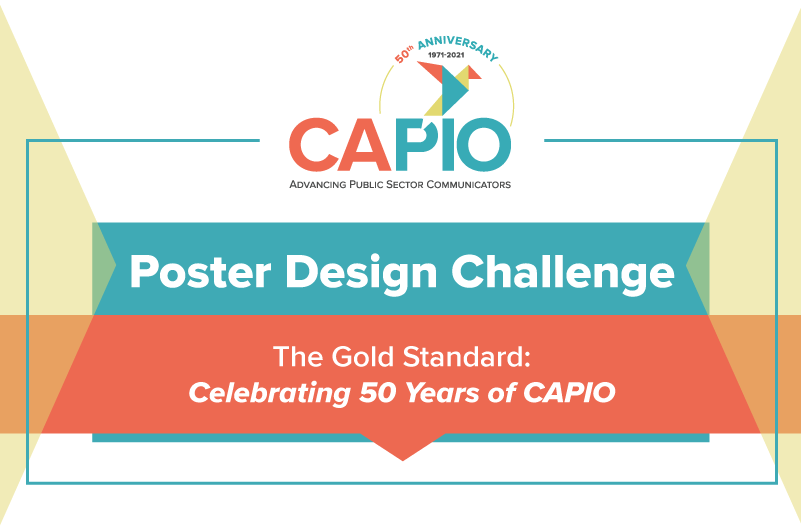 Calling all creatives, we need your astute design expertise to help capture the essence of government communications over the past 50 years! Show us your design skills!
While the heart of public relations, government sector communications, and outreach has gone unchanged, the way we communicate, what we communicate, and how consumers of information obtain messages have dramatically transformed.
Visually, we want to display that growth and change with CAPIO's 50th Art Challenge.
That's why we are calling graphic designers (in-house or agency and open to members and non-members) across our state to join the fun. You can choose to work collaboratively on a poster project or create individual works of art.
What do you win? Well, in addition to epic bragging rights, there are two opportunities to win:
Top choice by committee: $500 cash prize or equivalent
Community choice vote: $250 cash prize or equivalent

*If preferred, winner may elect for a prize of equivalent value in CAPIO items such as membership or trainings.
The winning entry will be featured on our website, at our annual conference and will include reprints for all conference participants, and likely a giveaway item.
Contest theme:
The Gold Standard: Celebrating 50 Years of CAPIO
Things to consider:
Using the contest theme (which is also our fall conference theme), you have a free canvas to:
Develop a visual story about CAPIO.
Demonstrate where communications has been or where it's going.
Illustrate key milestones that have shaped and transformed how we communicate (going from fax machines, to the internet to social media – you get the picture!)
Display a level of community and connectivity as a statewide organization and how we have helped shape how we inform, educate and engage audiences.
You can visually interpret using any art style – both in hand-drawn form and using computer design tools. We suggest bright and highly visible colors. In addition, use colors from our style guide, found here.
In addition, although we will print a poster, consider your masterpiece on a giveaway item, too.
The rules:
The contest begins April 1, 2021 (no we aren't joking) and runs through August 15, 2021.
Only one entry per team or individual. (If you are collaborating as a team, you can submit as an individual, too.)
Entries must be from state of California public relations, graphic, and communication agencies or California government sector agencies. No out of state submissions are eligible.
Entries must include the name or names, address, email and a phone number separate from the entry.
Entries must include a short narrative (200 words or less) in a separate document that includes background information for judges' consideration.
Entries can be hand drawn or computer-generated. If hand-drawn, you must upload it electronically first and then mail.

Send PDF entries to info@capio.org and, if applicable, mail to: P.O. Box 8840
Chico, CA 95927.

Entries must use CAPIO color palette. (STYLE GUIDE)
Entries must be produced on a single-side and can be reproduced to poster size of 18 x 24".
If your entry is selected as a winner or community choice vote, your grant CAPIO royalty-free, nonexclusive right to:

Use of artwork for distribution purposes
Use of artwork on marketing materials
Use of artwork on giveaway items
Retain a digital copy of the artwork

Entries must not include trademarked or copywrited materials.
Entries will be accepted until 5 p.m. August 16, 2021 by email. Postmarked by August 13, 2021 if submission requires it to be mailed.
Entries will be screened based on message, merit, creativity, and originality by CAPIO and a working group of past presidents, current board members, and other CAPIO members.
Do not add logo to art. For branding purposes, CAPIO logo will be added to the art in the corner prior to poster printing.
Community choice vote recommendations will be screened according to the aforementioned rules and will be placed on social media for voting by interested parties. Top vote-getter wins.
Questions?
For questions about the challenge, please contact us at info@capio.org.
Share with your creative colleagues or agencies! CAPIO membership is not a requirement for this contest!
​TIMELINE
August 16

Entries due

August

Community choice voting preparations

August

Community choice voting

September

Top winner and community choice winner announced