Central CA Regional Meeting
Let's Meet!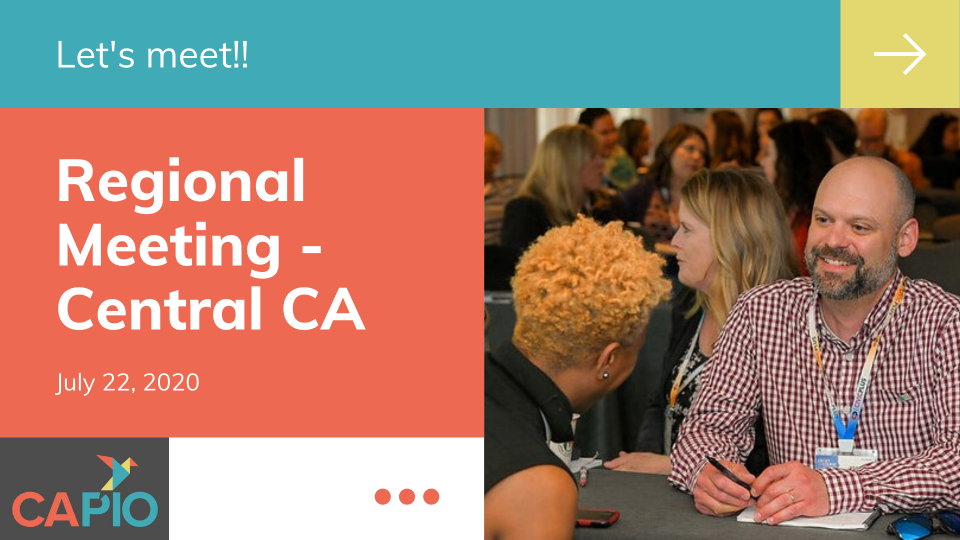 CAPIO members, join us for our virtual Regional Meeting for members in your area! This is your chance to connect with your colleagues, learn about CAPIO's upcoming trainings and new initiatives and share your thoughts about what you'd like to see in your region.
ABOUT THE MEETING
Hear what CAPIO has planned for the coming year.
Learn how you can make the most of your CAPIO membership.
Share your input on what training or networking opportunities you're looking for in your region.
Learn about volunteer opportunities and leadership development opportunities.
Event will be limited to the first 100 participants as we will be "on video" on the zoom call to meet and see one another! Drawings will be held for CAPIO swag and free trainings!
Meeting Facilitators:
Maurice Chaney, CAPIO President
Erin Morales, CAPIO President-Elect
Thomas Reeves, CAPIO Central CA Regional & Membership Director