CAPIO's 2023 Communications 101 Boot Camp
In Person Workshop - Newport Beach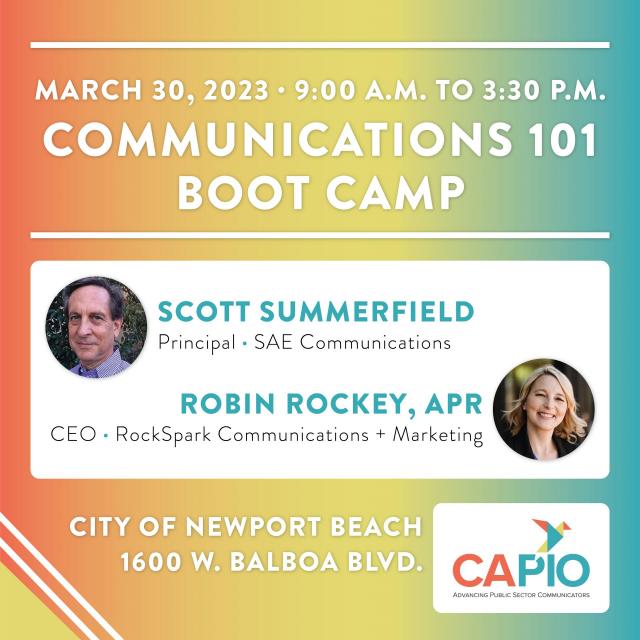 New to the field of public-sector communications? Whether you've recently started your career, transitioned from a different profession or just need a refresher, this full-day workshop is for you! During this boot camp, you'll learn core strategies, tools and techniques to level-up your communications skills.
Key takeaways from this webinar include information on:
Thriving in today's media environment
Developing key messages for important agency issues and programs
Preparing for in-person and virtual on-camera interviews
Creating a Writing and Brand Style Guide to cohesively share your organization's story
Channeling your inner journalist to write for maximum engagement: secrets and tools from an editor turned PIO
Crafting impactful news releases and content that resonates across multiple mediums, including print, digital and video
Understanding and using Federal Plain Language Standards, AP Style and more
Speakers:
Date: March 30, 2023
Time: 9:00 a.m. to 3:30 p.m.
Location: City of Newport Beach
Marina Park Community Center
1600 W. Balboa Blvd., Newport Beach
Lunch and light refreshments are included.
Cost: $85 – CAPIO Members/$140 – Non Members
APR Continuing Education Unit
BIOS
Scott Summerfield is a principal of SAE Communications. He provides crisis communications counsel for numerous local government organizations and advises on emerging issues such as cyberattacks, Public Records Act, and First Amendment videography.
Scott is a Dean of Instruction at the California Specialized Training Institute (CSTI), CAPIO past president and lifetime member, CAPIO Paul Clark Award winner in recognition of outstanding service, grants chair of the Bay Area Sports Hall of Fame, past executive board member of the City-County Communications and Marketing Association (3CMA), past board member of the Bay Area Cable Excellence Awards, and guest lecturer at the University of Southern California's Annenberg School of Communication. Scott is a graduate of the Telecommunications and Film program at San Diego State University.
Robin Rockey, APR RockSpark Communications + Marketing CEO Robin Rockey, APR, is a nationally recognized government communications and public relations leader with extensive communications experience in both the private and public sectors.
Her company, RockSpark, is an award-winning, full-service agency specializing in government communications and marketing that focuses on helping cities, special districts, fire and police teams, and other public agencies achieve their goals.
Robin recently served as CAPIO's representative on the Universal Accreditation Board (UAB), which oversees the APR credential. She has also served in several board positions on the Public Relations Society of America's Orange County Chapter's Board of Directors. Robin's travel book, 100 Things to Do in Orange County Before You Die, is now available wherever books are sold. As a former editor and journalist, her articles have appeared in Sunset, Westways, TravelAge West and more. She has interviewed everyone from San Diego zoo animal trainers to actor Robert De Niro.
Event sponsor: