CAPIO's 2023 Communications 101 Boot Camp
In Person Workshop - Palo Alto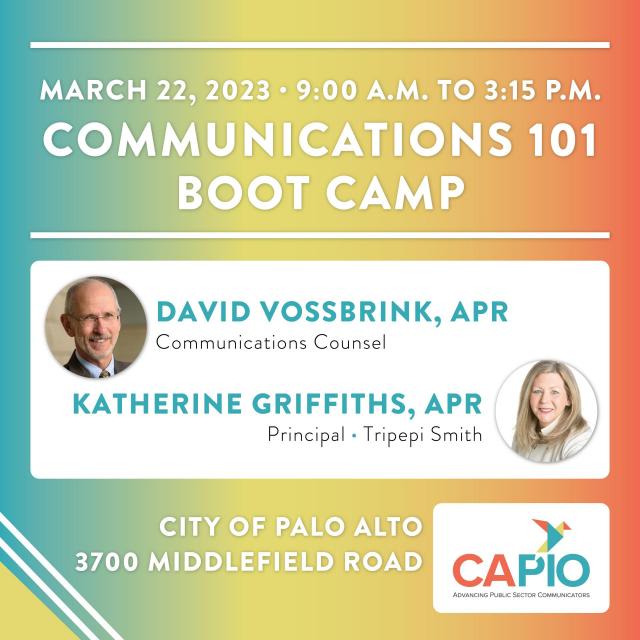 New to the field of public-sector communications? Whether you've recently started your career, transitioned from a different profession or just need a refresher, this full-day workshop is for you! During this boot camp, you'll learn core strategies, tools and techniques to level-up your communications skills.
Key takeaways from this webinar include information on:
Thriving in today's media environment
Developing key messages for important agency issues and programs
Preparing for in-person and virtual on-camera interviews
Creating a Writing and Brand Style Guide to cohesively share your organization's story
Channeling your inner journalist to write for maximum engagement: secrets and tools from an editor turned PIO
Crafting impactful news releases and content that resonates across multiple mediums, including print, digital and video
Understanding and using Federal Plain Language Standards, AP Style and more
Speakers:
Date: May 24, 2023
Time: 9:00 a.m. to 3:15 p.m.
Location: City of Palo Alto Mitchell Park Community Center
3700 Middlefield Road, Palo Alto
Lunch and light refreshments are included. Free parking is available onsite and nearby.
Cost: $85 – CAPIO Members/$140 – Non Members
APR Continuing Education Unit
BIOS
David Vossbrink has served in local government public information communications for more than four decades, including service as Director of Communications for the City of San Jose.
He has also served in senior communications roles for San Jose Mayor Ron Gonzales, Mineta San Jose International Airport, City of Sunnyvale, and East Bay Municipal Utility District. Although mostly retired, he continues to provide strategic communications consulting services for local governments and universities.
Throughout his career, he has managed strategic communications, media relations, crisis communications, public policy development, and community relations to earn and sustain public trust that is essential for effective and responsive government.
Vossbrink began his career as a community organizer with Volunteers in Service to America working to improve living conditions for residents of poverty neighborhoods in South Florida. As a VISTA Volunteer he discovered the powerful impact that local government has on quality of life and opportunity, as well as its accessibility for positive change and effective public involvement.
Accredited by the Public Relations Society of America, Vossbrink has served as president and a long-term board member for the PRSA Silicon Valley Chapter, and he was presented with the chapter's Legacy Award in 2019. He also is a life member of the California Association of Public Information Officials, and he received CAPIO's Paul B. Clark Award in 2002 in recognition of his career contributions to the public-sector communications profession. He is a graduate of Stanford University with a degree in history.
Katherine Griffiths, APR. With proficiencies in brand development and stewardship, executive messaging, style and grammar, Katherine Griffiths, APR, is an award-winning writer and creative director whose work with municipal and higher education clients has earned accolades from the California Association of Public Information Officers, the Council for the Advancement and Support of Education and the College Fraternity Editors Association. As a principal at Tripepi Smith, she supports administrative and creative projects for the California Choice Energy Authority, California Joint Powers Insurance Authority, Clean Energy Alliance and Renne Public Law Group. Katherine previously was director of community relations for the Paine Art Center and Gardens, associate editor for The ANCHORA of Delta Gamma Fraternity and publications editor and director of creative services for Claremont McKenna College. She holds a bachelor of arts degree in English from Denison University.
Event Sponsor: