A Helping Hand – PIOs on Mutual Aid
In November PIOs from across the state joined Butte County PIOs in the aftermath of the devastating #CampFire. PIOs from across California came to support. From the JIC we share stories from Paul Hosley from West Sacramento along with Adriane Mertens and Misti Harris from Santa Rosa who knew firsthand how the community and their fellow PIOs were feeling in the midst of the disaster and the recovery. Additionally, we share a story from Brandon Vaccaro who assists CAL FIRE Incident Management Teams on large-scale incidents.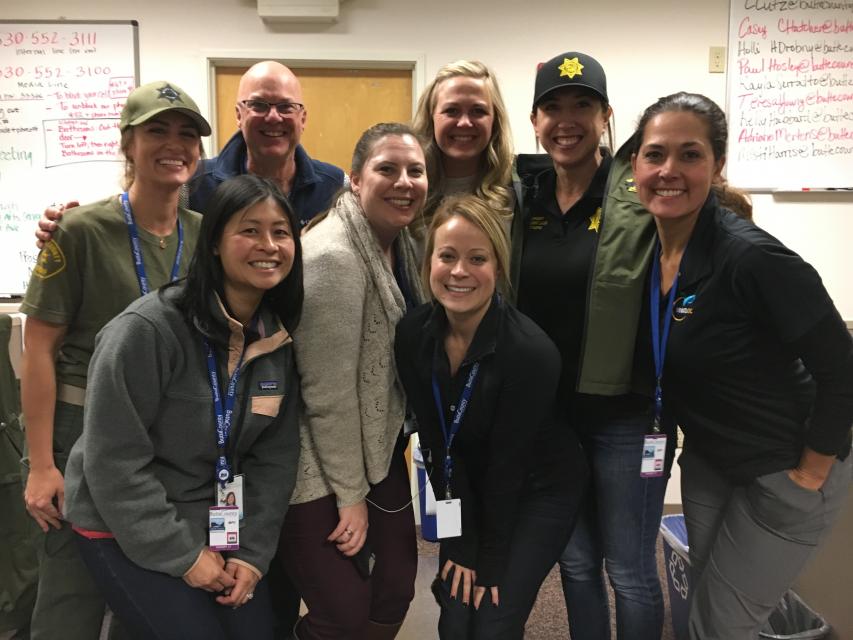 Paul Hosley, City of West Sacramento Communications and Media Officer
"We were dispatched to the Butte County Joint Information Center (JIC) in Oroville in response to an Emergency Management Mutual Aid request. We worked alongside PIOs from the Town of Paradise, CalOES, FEMA, the Environmental Protection Agency, and the Red Cross in 12 hour shifts for up to two weeks at a time handling news releases, social media messaging, media interview requests, website content, talking points, FAQ'S, photos and video content. Our group also managed news conferences and organized community meetings for evacuees and fire survivors. The work was challenging but rewarding."
Misti Harris, Sonoma County Sheriff PIO
"I heard about the call and my boss immediately gave me the clearance to apply through our county's OES. I was called in the next day to support for two weeks. When you go on mutual aid, you're entering the unknown. You have to quickly get up to speed on how operations are being handled, where your resources are and just jump in and be flexible. The first day I was at the EOC. Then I was moved to the JIC and was the conduit between CalFire and different agencies. I handled everything from drafting social media posts, designing graphics and handling media calls for information. One day I had the assignment of setting up the recovery JIC in five hours. I coordinated setting up the phone network, securing printers and office supplies and ensured the Keurig was in place by 1 p.m. for the 10 person recovery EOC.
During the two weeks, I was deployed on mutual aid, the closest hotel available was Sacramento. Fortunately, I have a friend in Chico so was able to stay with her and did not have to drive the 90 miles to Sacramento after the long shifts.
My advice to anyone dealing with a disaster is to make sure you don't burn out. The initial disaster is intense, but it takes a lot more energy and stamina to sustain the recovery efforts than the initial incident. My message to others is "This is a marathon, not a sprint." That is my first piece of advice. Pace yourself – the recovery takes a different pace and energy."
Adriane Mertens, Communications & Intergovernmental Relations Officer, City of Santa Rosa
"When I first arrived in the Butte County EOC, it was evident that their PIO team was extremely tired. They'd been going for nearly a week straight with no real time off. That's exhausting when you're working 12-15+ hour days and it feels like the weight of your community is on your shoulders. Misti and I were among the first mutual aid PIOs to get to Butte and our arrival allowed some of their team members to get some much-needed rest during our first couple of days there. Though the magnitude of devastation in Butte County is unlike anything any of us have ever seen before, I felt like my previous experience did help to prepare me. I had a better sense of what to anticipate and what needed to be done stepping into my role, and I think that helped make it easier for the local PIOs to be able to take a true break.
When I arrived, I worked with the operational sections of their EOC and other partner agencies to coordinate messaging needs, drafted press releases, fielded media interviews and prepped local staff subject matter experts for media requests. Aside from that, a big part of my role turned out to be sharing experiences of how Sonoma County addressed the communication needs and issues that came up in the weeks, months, and longer through recovery. Sharing those experiences helped Butte's team to make early decisions on how to set up some of their own communication plans and systems for the long haul. Sonoma County's Recovery Joint Information Center (JIC) stood up for four months after the fires with PIOs from multiple agencies co-located daily in the same room. The biggest takeaway I have from that operation is to get communication systems in place and everyone working in rhythm as soon as you can. Butte's done a great job of laying that foundation quickly.
While it was a whole new environment, I saw many familiar faces in terms of the staff from state and federal agencies that deploy to assist after a disaster, and so knowing the stakeholders makes it easier to adapt quickly. Also, one of the other mutual aid PIOs that showed up in Butte while I was there – Paul Hosley from City of West Sacramento – had served as mutual aid to Santa Rosa's PIO team the year before. He had been a critical part of our communication efforts during the firestorm and there he was doing the same thing for Butte a year later. It's so important to have that strong back-up support network available. I'm glad I had the opportunity to go to Butte and provide help in that way too."
Brandon Vaccaro, PIO, Fire Captain/Paramedic, California City Fire Department
"In addition to my work with the California City Fire Department, I deploy as a PIO on major incidents with a CAL FIRE Incident Management Team. I was dispatched to the #Campfire two weeks after the incident to support recovery efforts. My focus for 10 days was to support the recently appointed Town of Paradise PIO in his role communicating to the public about the repopulation process. I also worked in the JIC, in Oroville, on messaging and media relations regarding the recovery efforts. In the last two years, I have deployed to the Sonoma County Firestorm, Thomas Fire, Mendocino Complex and several other large-scale fires. The mutual aid process is an essential tool in any major, campaign incident. The CAL OES mutual aid system dispatches PIO's from around California to respond and form one large team."