Communicator of the Year Francie Palmer Retires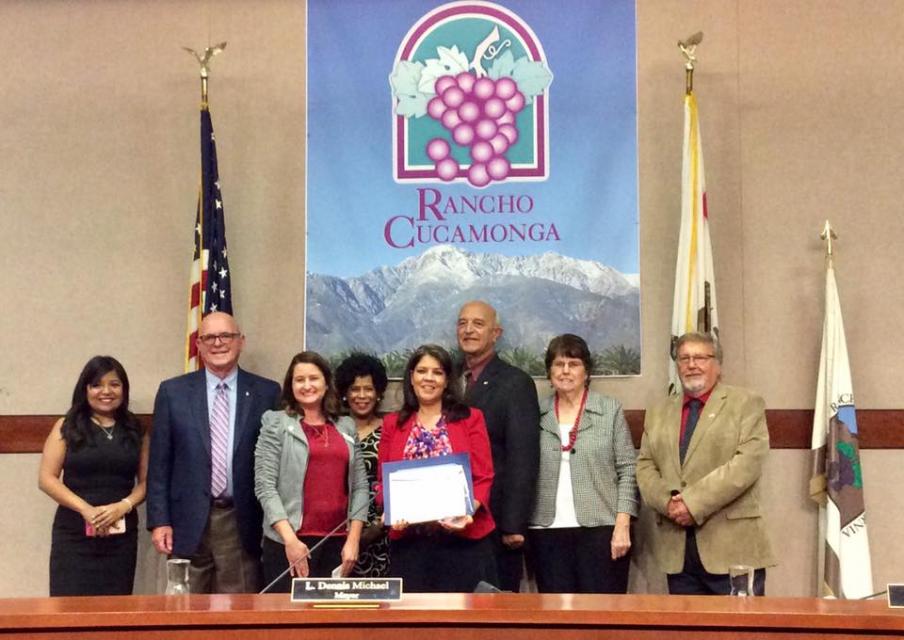 This March, Francie Palmer, CAPIO's 2017 Communicator of the Year, retires after more nearly two decades in public service.
Francie has been at the helm of the City of Rancho Cucamonga's communication efforts during this time, starting in the Community Services Department and then moving into her current role as the city's first-ever communications manager.
"Francie's commitment to the City of Rancho Cucamonga and its communications efforts has been invaluable. She single-handedly started our communications program from scratch and has grown the department to include three full-time communications staff as well as began developing our first-ever communications master plan for the city," said City Manager John Gillison. "Francie is one of a kind: A superb employee, an amazing peer, a wonderful friend and a great person to have on your team; she will be missed."
During her time at the City of Rancho Cucamonga, a community of more than 173,000 residents in Southern California's Inland Empire, Francie strategically built a strong foundation on the value and critical need for unified, transparent communications with the community, media and stakeholders.
Recalling her greatest lesson learned as a communicator, Francie noted it would be how to curate the most complex information into small, digestible content. "We may not sway an opinion on a topic, but I do feel there is at least a greater understanding and appreciation of sharing facts," she explained.
She serves as a trusted colleague and friend to many. Cucamonga Valley Water District Communication's Manager Kristeen Farlow noted "Francie has served the City of Rancho Cucamonga with professionalism in everything she does. From her work in support of community programs to partnering with agencies like mine – the Cucamonga Valley Water District – to internal employee development, her work is unsurpassed."
Francie has also been an active member of CAPIO and other professional organizations, serving on boards and committees as well as receiving many awards honoring her outstanding public-sector communication programs, projects and initiatives.
"Francie has always been a strong supporter of communications, and she was instrumental in helping CAPIO's sponsorship program take off during her time as sponsorship chair," said CAPIO Past President and current Education and Development Chair, Rachel McGuire, APR. "Additionally, she also works to develop meaningful understanding of the profession regionally through many communications workshops she teaches to other public administration professionals."
In addition to her award winning work, she mentors young professionals coming up in the field of public relations and communications. Many of her mentees have moved on to successful communications careers.
"During my time working with Francie, and even now, she is a good friend and an amazing mentor. At a time when I was at a crossroads in my career, her ability to show me the importance of personal branding and the integral part it played in my professional growth was unparalleled," noted Michelle Adams, senior communications program manager at Eastern Municipal Water District, who previously worked with Francie at the City of Rancho Cucamonga.
"The knowledge she armed me with is not something from which only I came to benefit, but the organizations I have worked for as well. John Adair once said, 'Communication is the sister of leadership.' Francie is not just a communicator in the field, she is a leader, a mentor, a friend, and someone I respect immensely for the contributions she has made to the world of government communications," Adams added.
Francie's advice to the next generation of communicators is to dare to challenge the status quo and to bring innovation and technology forward and show how it benefits the organization and communities we serve.
Once she retires, Francie will move to Nevada with her husband in order to be close to her daughter's growing family. Though, she is looking forward to continuing to serve the public in her new community.
In reflecting on her greatest achievements, she is quick to call out her six children and 11 grandchildren in her personal life. Professionally, however, Francie most enjoyed playing a role in the development and growth of professionals.
"The greatest gifts we can provide is mentoring of our next generation of leaders. I love watching staff soar," she added.
You'll be missed, Francie! Thank you for all you've done for your profession and CAPIO! We wish you all the best in retirement.