April is APR Month!
Celebrating the Profession, Ethics, Education and Expertise
This April marks CAPIO's first year offering our members the internationally recognized APR, which highlights ethics, education and expertise in the fields of communication and public relations.
CAPIO realizes that ongoing learning and development is key to you – our members – and we are happy to report that in our first year offering the APR, several members have already applied and are moving forward with the Panel Presentation and Computer-based Exam.
In addition, CAPIO has partnered with regional Public Relations Society of America (PRSA) chapters and the California Schools Public Relations Association (CalSPRA) to offer in-person study groups and information sessions across the state. In addition, several CAPIO members are taking advantage of the online APR study course.
"We want the APR process to be as seamless as possible for our members," said CAPIO President Christine Brainerd, APR. "We are thrilled to offer so many regional study and information sessions thanks to our partnerships with other organizations offering the APR."
The Accreditation in Public Relations (APR) is the gold-standard in communications and public relations credentials earned by practitioners who commit to the profession through ethical practices and sound judgement, strategic perspectives, knowledge of best practices and the use of the research-planning-implementation-evaluation (RPIE) process.
Unlike other professions, the field of public relations does not require licensure or certification to practice our craft. But it does require expertise, knowledge and training to be a successful and strategic communications professional and counselor. The decision to purse the APR is both personal and professional.
So why should you want to earn your APR?
"Earning my APR was something I vacillated for years," said CAPIO member and County of Santa Barbara Communications Manager Gina DePinto, APR. "I had the experience of a well-rounded public relations and marketing career, but becoming accredited elevated my confidence and credibility and demonstrated my ability to strategize and lead. My only regret is not achieving it sooner."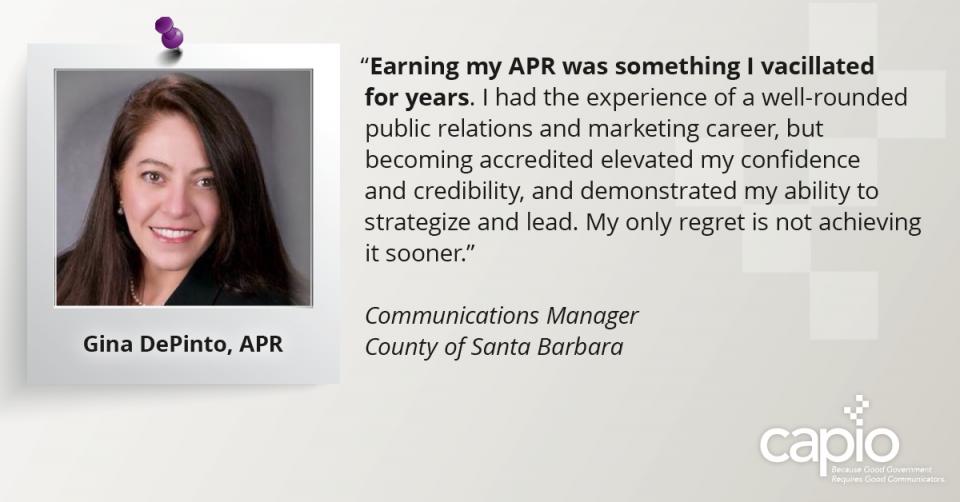 Accreditation is a mark of distinction. The APR is earned through a rigorous process. Practitioners are required to present their knowledge during a panel interview to peers who have their APR. This panel interview is followed by a comprehensive examination that tests candidate's knowledge of the field. Perhaps most importantly, the APR signifies an understanding and commitment to a code of ethics and ability to think and plan at a strategic level.
"I have my M.B.A, but I learned more professional skills that were directly relatable to my job through the APR accreditation process," said CAPIO Education and Development Chair Rachel McGuire, APR. "I credit APR with increasing my confidence and understanding of communications and solidifying my role as a communications strategist and leader in my organization and field."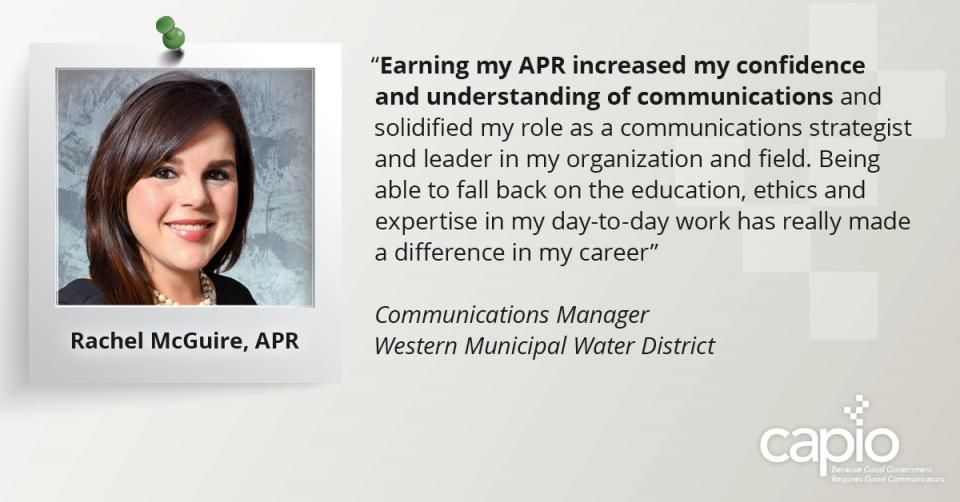 In today's business climate, it is critical that an organization's communications and public relations function adheres to ethics. The complexities associated with technology, societal change and instantaneous news make ethics more important than ever as the profession matures.
In fact, a recent study completed by faculty at Baylor University showed that practitioners with an APR possess more confidence in providing ethical counsel to senior leadership than their non-accredited peers. In the current fast-paced and ever-changing business world, a solid understanding of ethics is critical to an organizations success.
Communications and public relations has moved far beyond the stereotypical spin doctor and press agents of the 20th century. Today's communications practitioners play a vital role in reputation management, crisis communications and issues management. A seasoned pro operates at the strategic level, focusing on target audiences and measured results, not just flashy social media posts and guerilla-style publicity stunts.
"As communicators, we play a vital role in our organization and with our clients," said CAPIO Member Liselle DeGrave, APR, owner of DeGrave Communications. "As public trust in government continues to decline, a solid understanding of public relations and ethics is critical to the success of every organization."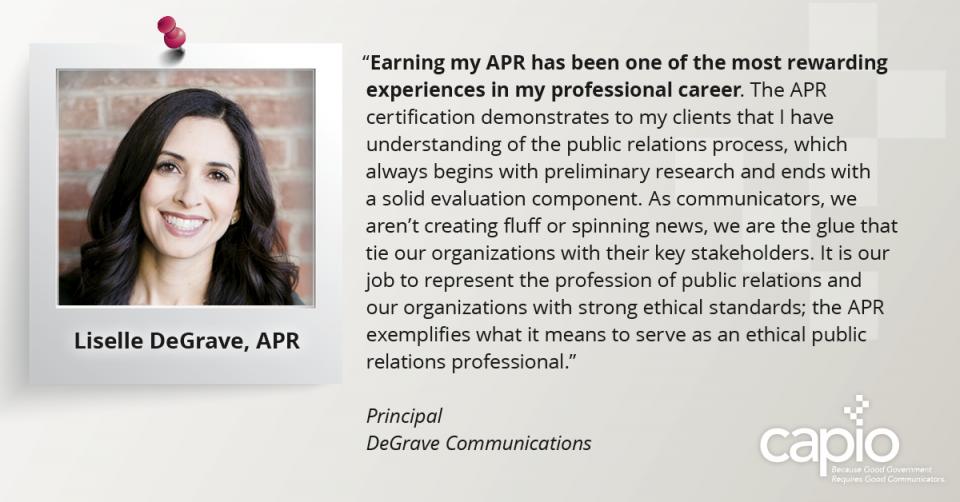 How do companies and organizations – especially those in government – know they are hiring the right person? The APR credential signifies that a professional possesses the competence necessary to operate at a strategic and ethical level in an increasingly complex communications world. Hiring managers and organizations who choose professionals with APRs know that they have chosen competent individuals committed to providing strategic and insightful counsel.
"I'm forever grateful to my mentors who encouraged me to pursue an APR," said City of Sunnyvale Communications Officer Jennifer Garnett, APR. "At the time, the process reinforced years of on-the-job experience and provided an invaluable framework for public relations. Years later, as I've continued to maintain accreditation, my APR remains as one of the best professional investments I've made in my career."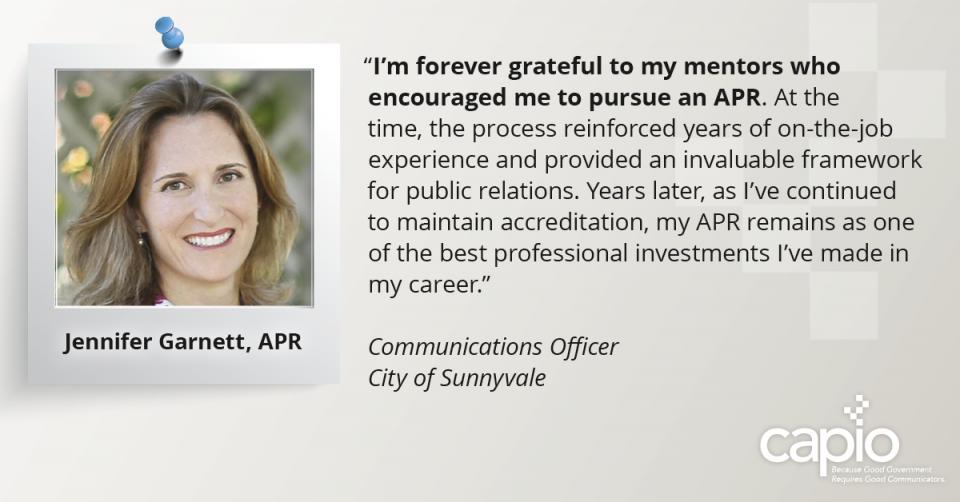 CAPIO is one of only nine organizations to administer the internationally recognized APR. To learn more about the APR, visit CAPIO's APR web page.