Sustaining engagement at Laguna Beach Police Department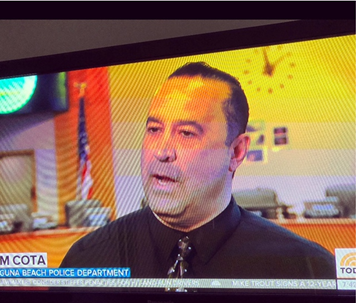 Perspective from Jim Cota, Lieutenant, Laguna Beach Police Department
By Jackie Tran, Communications Analyst, City of Monrovia
Located in Orange County, Laguna Beach is a small town with an active, close-knit community. Striving to provide the best service, the Police Media Team was established in 2016 to increase engagement and reach all segments of the community.
Beginning his career with the Laguna Beach Police Department (Laguna Beach PD) in 1995, Lieutenant Jim Cota now oversees the Police Media Team and serves as Public Information Officer. With more than 26 years of experience and a passion to connect with the community, Lieutenant Cota provides three key takeaways on sustaining engagement through challenging times.
Be transparent with your actions
Laguna Beach PD aims to be a name that people not only recognize, but one that they can trust. With information at our fingertips, at any second, the community may fact check a social media post. Lt. Cota stresses that being transparent in every social media post is crucial to earning trust.
Be aware of the social environment
Scrolling through the Laguna Beach PD's Instagram, you'll notice a wide range of variety. During these unprecedented times, the Police Media Team became increasingly cognizant of their caption tone. Their approach went from being humorous on certain topics to being a resource providing information on new health official's directives and how the police department continues to serve through a pandemic.
Be open-minded
Lt. Cota believes that social media is one of the most powerful communication tools, but it is ever-changing. By having a Police Media Team that consists of 10 individuals, both sworn and non-sworn, the department is able to think outside of the creative box. A tremendous amount of effort is put into the social media posts to ensure that each is tailored specifically to the social platforms. This approach has earned the Laguna Beach Police Department over 22.5K followers on Instagram.
Learn about and learn from the Laguna Beach Police Department by visiting their Facebook and Instagram platforms.