Ring in 2021 with a pledge to earn your APR!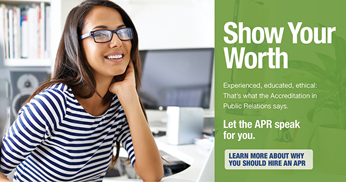 It takes a professional—someone with exceptional experience, broad expertise and strong dedication and values—to thrive at what you do. Now is the time to profess what you know, and get the credentials to prove your expertise with the Accreditation in Public Relations (APR)! This year, CAPIO is pleased to offer multiple opportunities for members to learn more and earn your APR!
Plus, you can do it all from the convenience of your home or office! Thanks to changes put in place because of COVID, you can now remotely both complete your APR panel presentation and sit for the computer-based exam. Check out these convenient, upcoming APR opportunities for CAPIO members:
Course Sessions
CAPIO is proud to partner with OCPRSA to offer the Spring 2021 APR Study Session. The course will prepare participants for every step of the Accreditation in Public Relations (APR) process. This year's annual 10-week session course will be held entirely via Zoom.
Click HERE to learn more about earning your APR. The course sessions will be held Mondays from 6:30 – 8 p.m. (Feb. 22 – April 19, 2021).
For more information, contact Angela Burrell, APR at (949) 356-2537 or aburrellstar@gmail.com.
CAPIO Member Webinar: Earn Your APR in 2021: Everything You Need to Know to Start Now!
Friday, Feb. 26 from 12 – 1 p.m. | Online
Get the inside APR scoop from three current APRs who have served on the Universal Accreditation Board, which oversees the APR credential. Panelists Ann Peru Knabe, Ph.D., APR, Kathleen Donohue Rennie, Ph.D., APR, Fellow PRSA, and Robin Rockey, APR, will share their insights and experience with the APR process and answer all your APR questions! Register today!