Pursuing your J. Lindsey Wolf Certificate in Communications?
Upcoming and past webinars qualify toward your certificate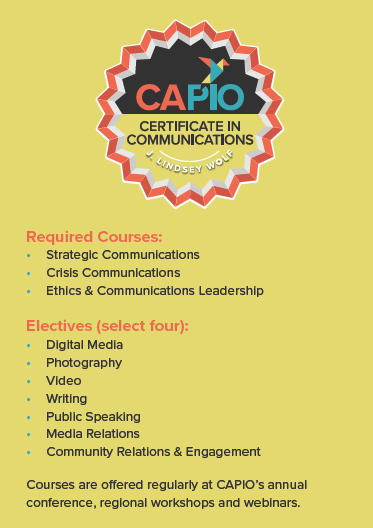 CAPIO's popular J. Lindsey Wolf Certificate in Communications is one of the hallmark offerings of our Association. Established in 2003, this certification, which is exclusively offered through CAPIO, provides a solid foundation of core communications courses focused on strategies and tactics to meet the evolving needs of CAPIO members and keep pace with the everchanging communications landscape. The J. Lindsey Wolf Certificate in Communications is offered free to CAPIO members. Seven courses are needed to complete the certificate. Learn More Here.
Did you miss our Ethics & Communications Leadership webinar? Be sure to request your copy by registering on our past webinars page. A copy of the webinar will be emailed once you submit your payment.
We realize many of you were hoping to complete your certificate at the conference. CAPIO will be rolling out additional programming that qualifies for the certificate program in the coming months. In addition many of CAPIO's past webinars and in-person regional events qualify for the certificate program. If you have questions about a course you've taken, please email us at programs@capio.org. Log in to view your member profile and navigate to the Continuing Education tab. To qualify for your certificate, please complete the CE Tracking Form found on this page (right margin) with your completed courses listed and email it to programs@capio.org.