CAPIO celebrates 50 years: honoring the past, celebrating our future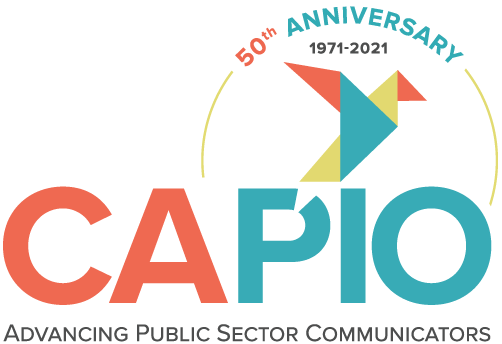 by Maurice Chaney, CAPIO 2020-2021 President
"If you just communicate, you can get by. But if you communicate skillfully, you can work miracles." ― Jim Rohn
For half a century, the California Association of Public Information Officials (CAPIO) has been the linkage between good government, the professionals that help to inform, educate, and engage, and the communities we serve. With communication, we made and continue to make miracles happen.
CAPIO started as a Southern California association and expanded statewide. Today, it's an association of government communication professionals from across the entire state, bolstering a nearly 700 member association, from a variety of industry sectors and all levels of government.
We could not be more excited to share in this occasion with those that charted the course before us who've helped shape how we communicate today. We also have to acknowledge those who are actively working to ensure transparency, understanding, and have a commitment to public service. In addition, we are reminded of the many who will carry the torch and provide a level of excellence in government communications as time goes on.
So much has changed in the last 50 years. The traditional communications model of sender, receiver, and feedback is constant, happening quicker and quicker each waking moment, which requires us to communicate now more than ever. Not to mention, there has been a shift in the traditional communication model in that we are operating in an engagement model where we are both the sender and receiver of information simultaneously.
We have reduced reliance on others to tell our story and instead use our own channels to get the message out. People demand a level of transparency, understanding, and participation – requiring a multi-layered approach to reach the people.
And, although our approach to communications has changed and evolved over time, the heart of CAPIO still remains: good government requires good communication. This means we must continue to prepare our membership on best practices for community engagement, public participation, and inclusion – because these are key tenants of good governance.
In 50 years, as an association, we have achieved some remarkable things. And we share in the successes of each member that has taken their communications and engagement for their communities to new heights.
This 50th milestone is to honor those who've created the a pathway for us today. And celebrating what is to come. As the years pass, we will continue on – through innovation, exploration of new ideas and approaches, and continual growth of our programming, networking, and services.
CHEERS TO THE NEXT 50!
We're excited to share this milestone with you throughout the year in a number of different ways. If you have photos or stories from CAPIO days gone by – please share them with us by emailing info@capio.org.