2023 Paul B. Clark Achievement Award Winner
Christine Brainerd, MPA, APR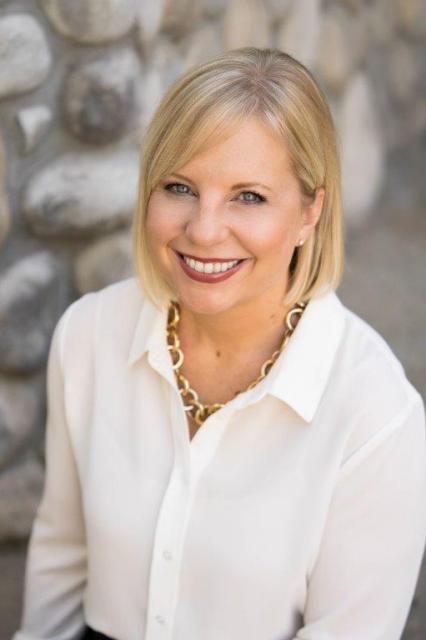 Monterey, Calif., – Christine Brainerd, MPA, APR, was awarded the California Association of Public Information Officials (CAPIO) 2023 Paul B. Clark Achievement Award on May 3. Brainerd was honored for her commitment to leadership and mentorship within the communications field.
"The only surprise to hearing that Christine was receiving this award was that she hadn't received it already," said CAPIO 2023-2024 President Lael Wageneck. "Her contributions to CAPIO and public communications are immeasurable. While the Paul B. Clark Award is essentially a lifetime achievement award, we look forward to many more years of Christine's leadership and commitment to the profession."
Brainerd currently leads a comprehensive citywide communications program as the City of Folsom's Communications Director providing strategic planning, media relations, civic engagement, crisis communications, social media, marketing, brand management, and information sharing with a community of more than 81,000 residents.
Honored for her exceptional leadership and dedication to public service, Brainerd continues to raise the standards in public information through her unwavering commitment to and advocacy for the communications profession, career of milestone achievements, mentoring of staff and ongoing contributions to CAPIO.
"I am deeply honored to receive the Paul B. Clark award– this recognition truly means the world to me. CAPIO has been near and dear to my heart for my entire career in government communications," said Brainerd. "As a new and inexperienced public information officer, CAPIO provided me with the essential building blocks to begin my career. As I advanced, it provided the professional network, training, and mentoring to grow as a strategic communicator and leader."
For more than 10 years, Brainerd served diligently on the CAPIO Board and has been an integral leader in CAPIO's growth and success as CAPIO President, Past President, and current role as Education and Development Chair. During her presidency in 2017-2019, she led the inception of the CAPIO mentoring program which she still provides valuable leadership to. She also developed the CAPIO Emergency Communications Academy, which draws a hundred attendees annually.
Brainerd has been honored with more than 60 national, statewide, and regional awards for communications and public relations projects through well-respected organizations, such as CAPIO, PRSA, and the League of California Cities. In 2016, she was honored with the 40 Under 40 Award by the Sacramento Business Journal, recognized for her accomplishments and contributions to the community at large.
Brainerd obtained a bachelor's in communication and a master's in public administration. She began her communications career in journalism and accelerated her career as she served as the Public Affairs Manager and Public Information Officer for the City of Elk Grove.
"There's no other organization like CAPIO that recognizes the value of well-trained and professional public communicators – and I am proud to be part of such an important and dynamic organization," she said. "It's been such rewarding work, with some of the brightest minds in local government, who care deeply about effective and impactful communications."
The Paul B. Clark Award is the highest honor bestowed by CAPIO. Honoring the memory of founding member and colleague Paul B. Clark, the award is given to an individual who demonstrates exceptional leadership in the communications field.
CAPIO is the premier association for California's government communicators, serving more than 900 professionals across the state.
To learn more about the Paul B. Clark award or the California Association of Public Information Officials, visit www.capio.org.
About CAPIO
The California Association of Public Information Officials (CAPIO) is the leading professional organization dedicated to advancing public sector communicators through training, resources, and networking to strengthen and engage communities – a fundamental piece of good government.
CAPIO serves more than 1000 members from cities, counties, special districts, school districts and state agencies from across the state of California.