Water Professionals Appreciation Week
Last year, the California State Legislature proclaimed the first week of October Water Professionals Appreciation Week. It officially begins on the first Saturday of the month and ends on the Sunday of the following weekend. As stated, "Water is the lifeblood of California, without safe and reliable water, no community and no sector of the economy—from agriculture to high tech to manufacturing—can thrive or expand."
So we celebrate all of you Water Professionals - Thank you for all you do to keep our water clean, safe, reliable and sustainable!
CAPIO reached out to our members involved with water and asked why they love their jobs. Here is a snapshot of what we heard:
"I love working in the water industry because of the wide range of people I get to work with on a daily basis- all with the same mission in mind. Prior to starting at CVWD I had no idea how many different types of jobs were needed to support the District's functions, but I've grown to love the variety! It's amazing how eye opening working with people from all backgrounds can be versus just working with people that do similar tasks as me. Anytime I go to a different department, my perspective on the District or project changes.

I enjoy opportunities to highlight our staff like a recent high school field trip we hosted for a Water Technology class. Besides showing them our various facilities, I got to incorporate a "career roundtable" where students got to learn from a sampling of our employees about their job functions and backgrounds. The employees conveyed so much passion during the event and the students really absorbed what they had to say. Their stories and energy made me proud to be part of such a dynamic organization and industry."

Katie Heer
Cucamonga Valley Water District
"Believe me, I get it. Sewers aren't sexy—to most people. But when I stop and think about the critically important role sewage collection and treatment systems play in our society, I get excited. I get to come to work every day and do what I love—public affairs and communications—for organizations that exist to protect public health and the environment. Seriously, does it get any better than that?"

Nicole Coleman
Sacramento Area Sewer District & Sacramento Regional County Sanitation District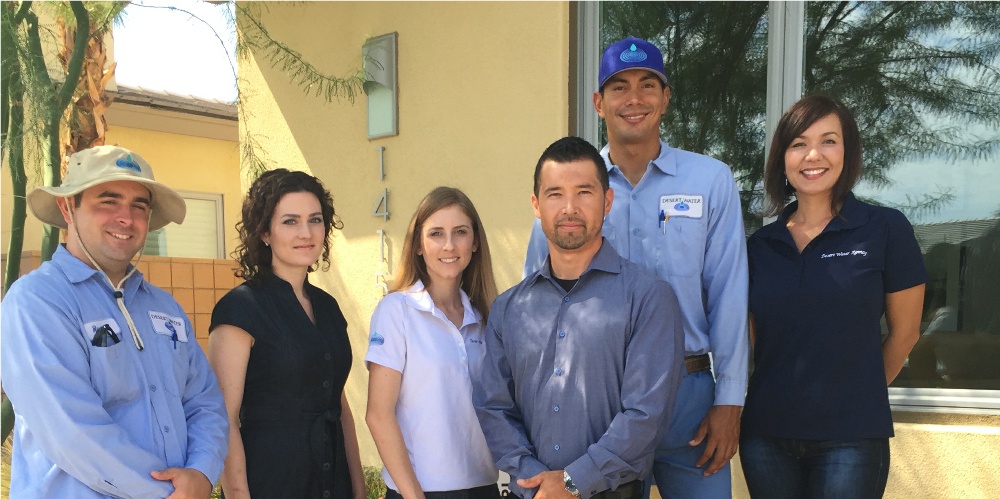 "Sometimes when I tell people what I do, their eyes glaze over. Other times people dive in and ask questions. Working in the water industry may not seem terribly exciting but it is a privilege and it keeps me on my toes. Public water agencies have so much to manage when it comes to public outreach. Everyone uses and needs water – there is nothing more fundamental. From working with legislators and regulators to helping customers find ways to use water more efficiently, there are so many opportunities to engage. It is also rewarding to promote transparency, translate engineer-speak into common language and make sure the community perspective is considered as our agency makes decisions about its future. I am so lucky to work with an amazing, dynamic team of people. Happy Water Professionals Appreciation Week to all of my colleagues!"

Ashley Metzger
Desert Water
"
"Being in communications for 18 years, but water for less than one, preparing for Water Professionals Appreciation Week has given me – well, a new appreciation for the people I work with! When I presented the resolution to our Board of Directors, one commented that he believed that any other entire industry workforce could be removed from our community, and life would go on. But not if we took away the people who treat and deliver water.

I'm looking forward to showcasing the many facets of our agency during this week. From lab coats to safety vests and from smartphones to backhoes – the diversity of knowledge and tools of the trade required to deliver clean, reliable and affordable water at the turn of a handle is amazing!"

Kathie Martin
SCV Water

"Most people don't know what I do as a government communicator. Top that off with the fact that I get to talk water, trash and crap every single day working for an integrated utility service. Often people give me the "what the heck?" look.

I never thought in a million years I'd be communicating about utility-related issues, programs and initiatives ever. But, I am glad I landed where I am.

What fascinates me the most about working in the utility industry is that we intersect with people's lives every single day and share in customers' moments because we provide a service that people rely and count on.

I didn't realize the amount of people, infrastructure and investment needed to make water flow uninterrupted to people's homes or business or what it takes to protect public health by thoroughly purifying water before it goes back into the environment.

I work with some amazingly smart and talented people and always grateful to help share the story of what we do, how we do it and why we do it to our customer base."

Maurice Chaney
Environmental Utilities
City of Roseville

"Working in water gives me the opportunity to make a positive impact every single day. Access to clean, safe, reliable water and sewer service is fundamental to every aspect of our lives. I enjoy educating people about the value of water, and I learn new things from our customers all the time! I love swapping conservation tips and comparing favorite California-friendly plants with our Water Saver of the Month Award winners. It's inspiring to see the lifestyle changes that folks have made to use water wisely – and to play a part in encouraging and supporting the responsible stewardship of one of California's most precious resources."

Robin Rockey, APR
South Coast Water District

10 years ago, I began my career in water at the Municipal Water District of Orange County. I had no idea what the years ahead would look like, or that I would grow to love the industry and my profession.

Water is an unassuming resource that flows from the tap with just a simple twist of a handle. Because of the success of dedicated professionals who spend their workdays behind the scenes ensuring that clean, safe, healthy water is available to the public, water is also often taken for granted.

Over the years, I have been fortunate to learn about the true complexities of studying, testing, managing, and delivering this vital resource. I understand now that for just a few pennies a gallon, we have access to a life-preserving supply and through this access, we are afforded a healthy, prosperous lifestyle.

There are many fascinating careers in the water industry such as engineer, scientist and water quality technician, hydrologist, system operator and even onshore diver. Exciting opportunities also exist in water-use efficiency, emergency systems management, and government affairs. I consider myself very lucky to work in public affairs because I get to communicate with others every day about all of it. Each day is a new adventure. Every hour is a different communications channel, and because water is necessary for life, I receive a great deal of satisfaction knowing that I am part of a vast, diversely skilled group of dedicated professionals in this exceptional industry."

Tiffany Baca
Municipal Water District of Orange County

"Working in water requires skills from engineering to finance and from water resources to communications. At Western Municipal Water District, our Communications program runs the gamut from strategic community outreach to video/social media.

Son Bui and Thomas Kleve are the talent behind Westerns's creative services, including our award-winning video, photography, social media and graphic design.

They both echo that the best part of working in water is being able to tell the story of the importance of this vital resource in a dynamic and engaging way!"

Rachel McGuire, APR
WMWD

Agency Press Releases for Water Professionals Appreciation Week
Eastern Municipal Water District - In 2018, EMWD received a J.D. Power Award for earning the highest customer satisfaction among agencies in the western United States. EMWD had the highest score in the nation for customer communications – a source of pride for the staff that works to communicate with customers, stakeholders and elected officials. During this week they celebrate water employee week. Read More
Have a press release to share? Email us at [email protected]
Share this post: